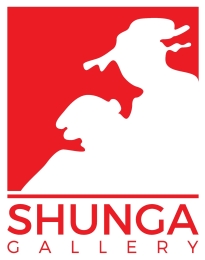 About the author
Shunga Gallery is conceived and created by specialist art dealer and historian Marijn Kruijff.
In 2000 Marijn started selling ukiyo-e art and inspired by its aesthetic and commercial appeal, over the years he focused more and more on the erotic subgenre called shunga. The genre within ukiyo-e that explores the erotic secrets of ancient Japan.
Over the next two decades Marijn's shunga content was removed from several platforms including YouTube and Tumblr, and it became increasingly clear that there wasn't anywhere where artists and lovers of shunga and related sensual art could freely share and express these interests, somewhere to enjoy the aesthetics of shunga without restraint.
In 2016 he started the website and blog Shunga Gallery, which has now published more than six hundred articles and five eBooks.
The growing interest in his mission can be seen in the number of new subscriptions growing daily.