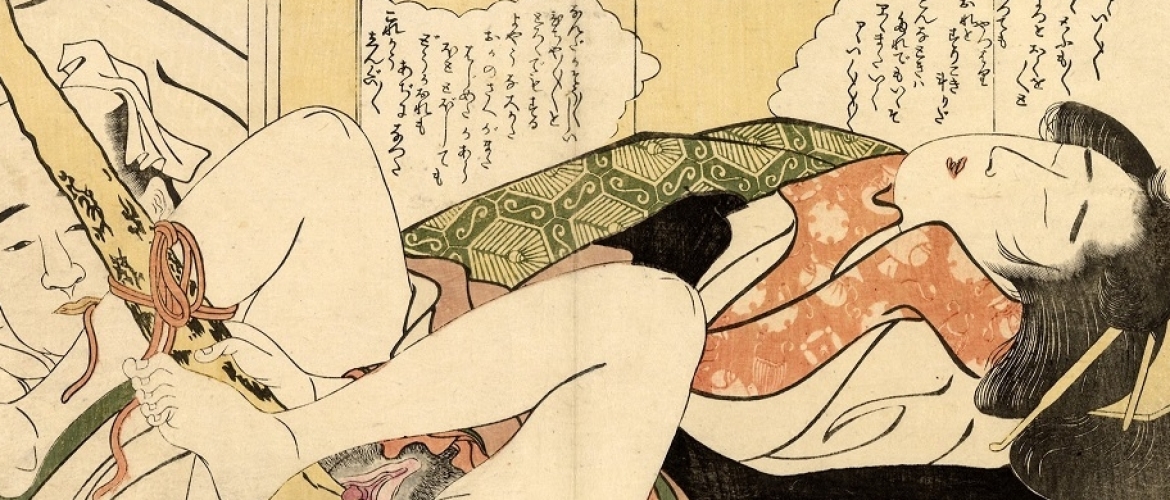 Chokyosai Eiri's Savage Shunga of a Masturbating Woman With Pestle
A bizarre in-your-face shunga scene by the long neglected ukiyo-e master Chokyosai Eiri (act. c.1789-1801). It is from one of the boldest sets of oban-sized erotica known called 'Models of Calligraphy (Fumi no kiyogaki)' published in 1801.
Vulgar
The album was partly modeled on Utamaro's well-known masterpiece 'Poem of the Pillow (Utamakura)' from 1788. About half the designs are direct copies of the earlier album but the adjustment is different. It is not only that both the drawing and coloring are more vulgar, the intention also varies. The prints are more decorative and less emotionally charged.
Chokyosai Eiri
The eminent shunga expert Dr. Richard Lane called Chokyosai Eiri, the jewel of the Eishi necklace. He said: "Why all the fuss about Sharaku*? Because he is so "mysterious"? No, not at all: because he is such a good artist. But Sharaku is not the only great yet enigmatic ukiyo-e artist, and I propose to resurrect here one of his important contemporaries who has been all too long neglected: Chokyosai Eiri."
As with many of the notable ukiyo-e masters, nothing is known of Eiri's biography. All we can say is what we learn from his extant prints and paintings: that he flourished during the second half of the Kansei Period (1789-1801); and that he was a direct pupil of the great Eishi – who, being of eminent samurai stock, may well have attracted pupils of similar background.
Bizarre
Lane's comments on the "masturbating woman" design:
"With Eiri's second plate, we come upon an even more bizarre scene: in a tableau unrelated to Utamaro, a fair young harlot is seen masturbating with a grinding-pestle – as a man watches intently from under bedding, behind a screen. This plate, too, will perhaps perplex, the art critic, if not the general reader.
But a potentially awkward situation is indeed displayed here with great grace; and, after one has absorbed the situation – and reflected upon the fact that, these days at least, women have the perfect right to do anything that men do – it must be recognized that the artist has executed a most difficult commission with great skill."
Check out this entertaining video with more designs including the use of sexual devices:
Click HERE for one of the masterpieces from Eiri's groundbreaking series or here for more masturbating females in shunga….!!
*Sharaku was an enigmatic ukiyo-e artist who was only active for a very short period (11 months) in which he only designed male actor portraits that are considered to be among the best ever drawn. His prints are extremely rare and sold for substantial amounts!
Source:  'The Complete Ukiyo-e Shunga: Eiri: Love Letters, Love Consummated (Fumi no kiyogaki) (Vol. 9)  by Dr. Richard Lane
Who is your favorite shunga artist? Leave your reaction in the comment box below…!!