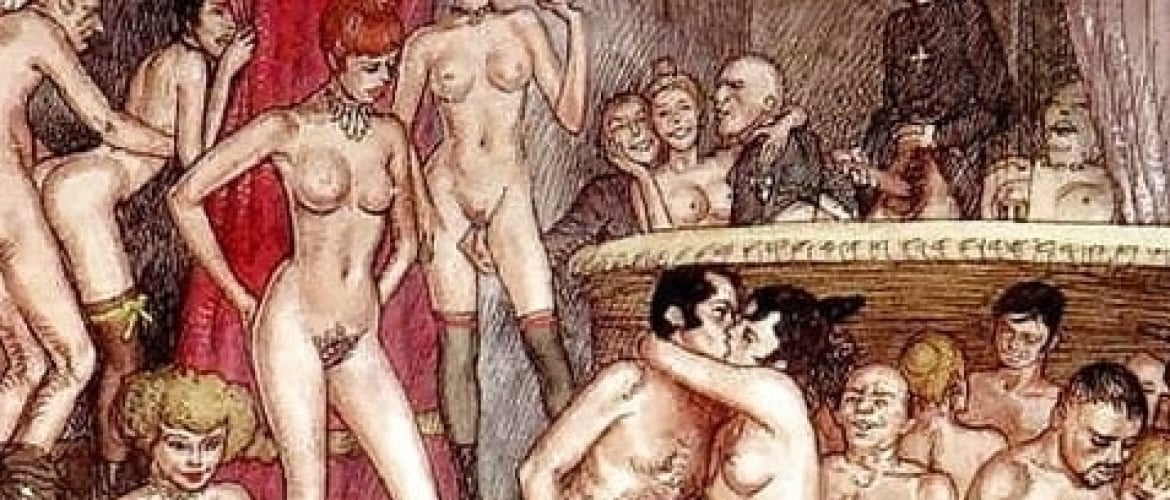 The Sadomasochistic Universe of the British Comic Artist Erich von Götha
Erich von Götha is the plume de nom of the British illustrator Robin Ray (born November 8, 1924 in Wimbledon), best known for his erotic comic book art exploring sadomasochistic coteries, using various paint and illustration techniques to tell his stories. Despite his shyness from the spotlight and living in puritan England, where censorship laws are so strict that his work is banned from publication, Von Götha is considered one of the greatest English adult comic book artists of the last decades.
Sex Therapist
He developed his realistic style at St Martins art school in London where he studied drawing and painting. Von Götha started his career working for London advertising agencies as a designer, illustrator and copywriter, and then worked as a teacher at Ealing School of Art. The cause of his entry into the erotic genre was a chance meeting with the English sex therapist Tuppy Owens for whom he produced the 'Sex Maniac's Diary', an unusual but successful publication which was especially popular among women.
Lynn Paula Russell
Now that Von Gotha got the hang of it, he started publishing the pornographic comics magazine Torrid, which appeared irregularly between 1979 and 1986. The early issues of the magazine also included contributions by the extraordinary British fetish artist and former adult actress Paula Meadows (aka. Lynn Paula Russell).
Rasputin
Due to the ban on Von Götha's work, several first saw print in France and Germany (without his knowledge) before they eventually appeared in an English edition. His works were from then on regularly serialized in Bédé Adult and Bédé X, and published in book format by International Presse Magazine (IPM) in France. It was thanks to the publisher of  these magazines, Lionel Roc, whose vigorous efforts caused Von Gotha to make a name for himself and resulted in his first books, the sci-fi story 'Conte à rebours' (1987) and 'Crimes et délits' (1988). Both albums were published by YES Company in France. 'Crimes et délits' was the story of a depraved man who tells his lover about the lives of Charles Manson and Rasputin. Von Götha did the illustrations for the Rasputin section after the original artist Georges Lévis died.
The Troubles of Janice
His most famous work is The Troubles of Janice which tells the story of a young unfortunate woman called Janice McCormick, falling prey to sadistic aristocrats in the eighteenth century England. From prisons to mansions, she climbs the ranks of society, until she finds herself free. The shadow of the Marquis de Sade hovers around the adventures of Janice and the content of the comics is characterized by extensive sex scenes and makes an effort to bring the time period to life in its splendidly illustrated artwork. A total of four albums were issued between 1980 and 2002.
(Translation above image: "Ah! Milord! What pain! You're killing me! I will not be able to take any more! I beg you, stop? But the villain remained deaf to my pleas and continued to beat me until he was exhausted.")
Twenty
Von Götha also made a futuristic version of 'Janice', in his 'Twenty' trilogy (2004-2008) that was set the (then) faraway year of 2018. It follows the erotic exploits of an 18-year old girl, Twenty, at a special college for adolescent girls. Her education will be finished in 2020: the beginning of a new era of sex, according to the author, Twenty enjoys her libertarian education in sexual freedom and proves to be a brilliant student.
Fanny Hill
Another notable contribution of Von Götha are his illustrations inspired on the controversial erotic novel Fanny Hill (1748) by John Cleland, The story of a young girl trained into sexual service, issued in two volumes, were illustrated by the artist in a noticeable manner including color graduations.
Continuation
Despite his advanced age, Von Götha is still active and besides commissioned work, he is working on a continuation of 'Janice' and 'Twenty'. Over the years his work has been displayed among other in the Mondo Bizzarro Gallery in Bologna, titled Sweat Tears & Reflections and In "Larmes d'Eros" in Paris.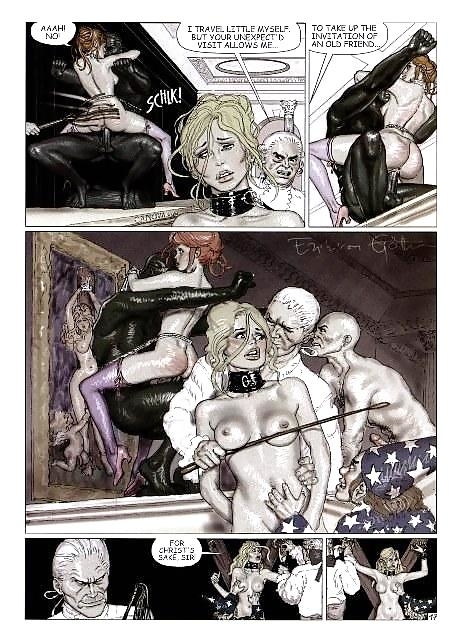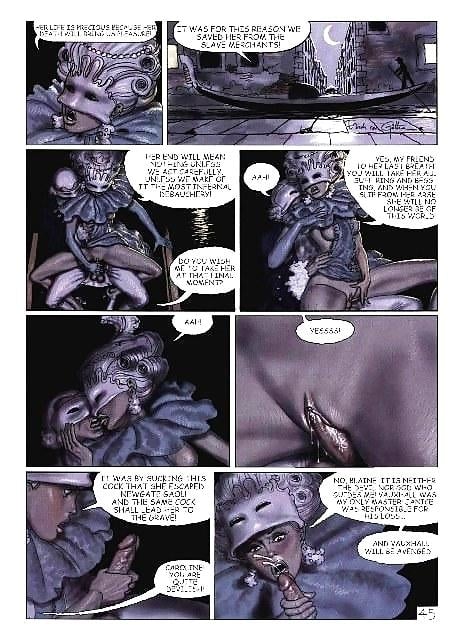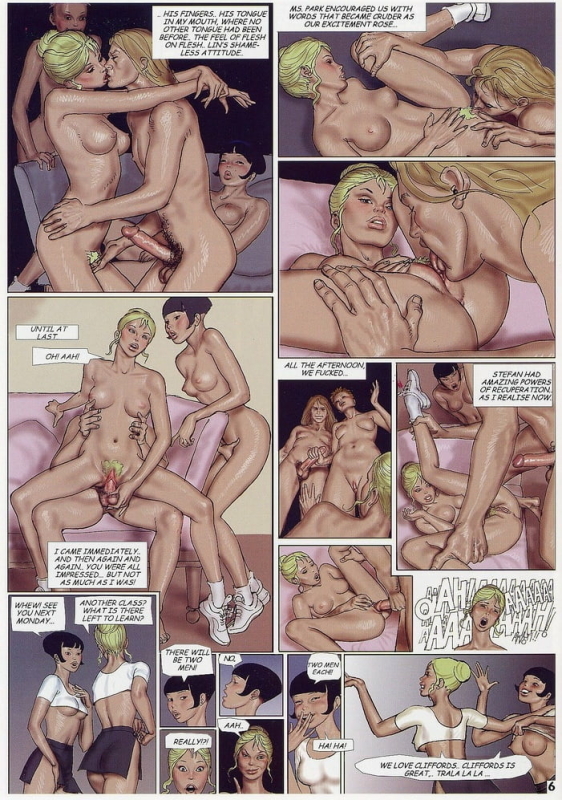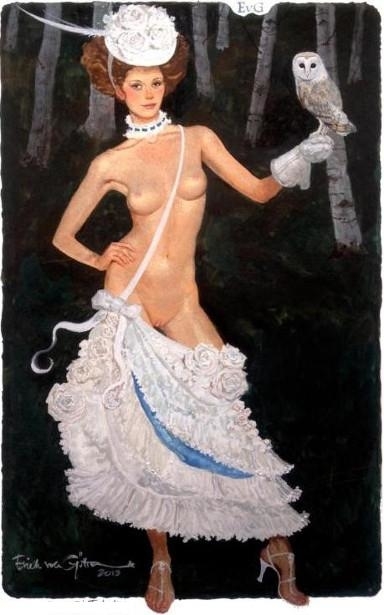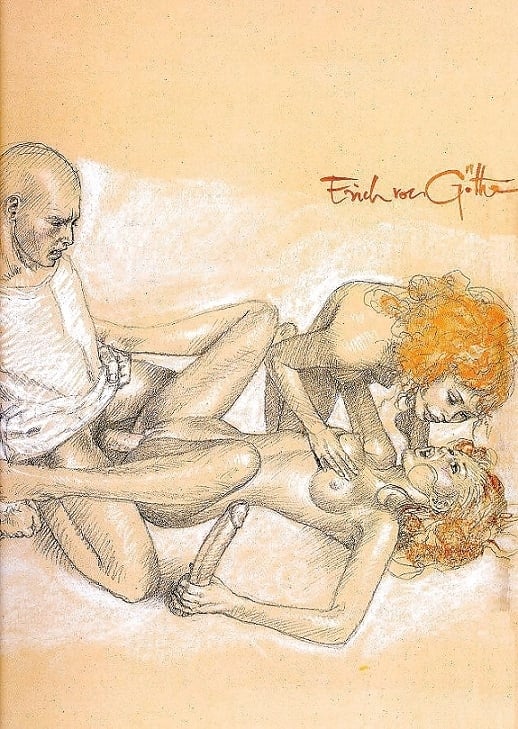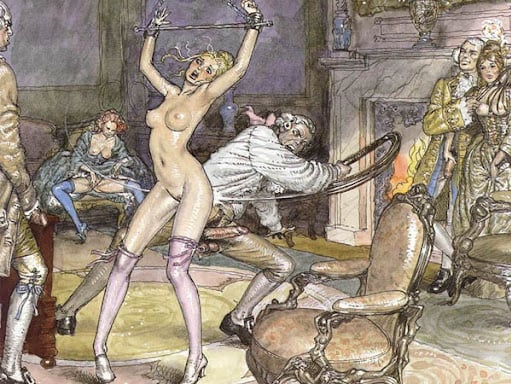 Bizarre Acts
The following set consisting of 12 illustrations entitled 'Le sentiment de la famille (A Sense of Family – 1996) accompanied the crude and humorous text of an erotic unpublished story on a family of theatrical performers specializing in bizarre acts involving the audience in a wide range of sexual experiments…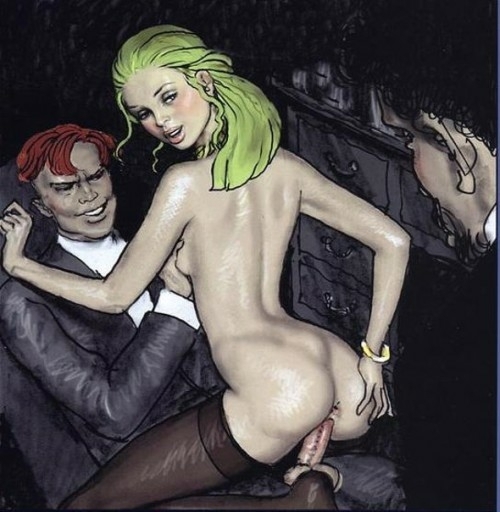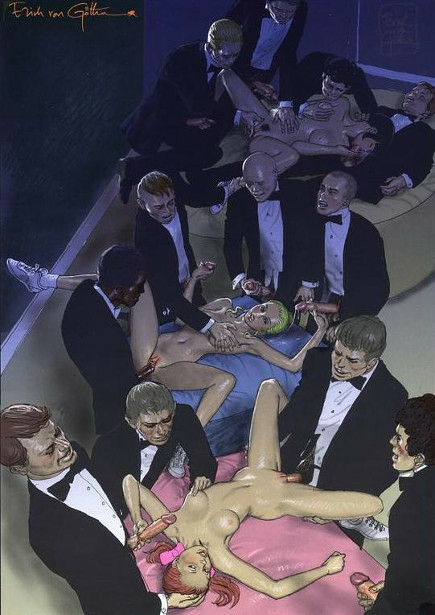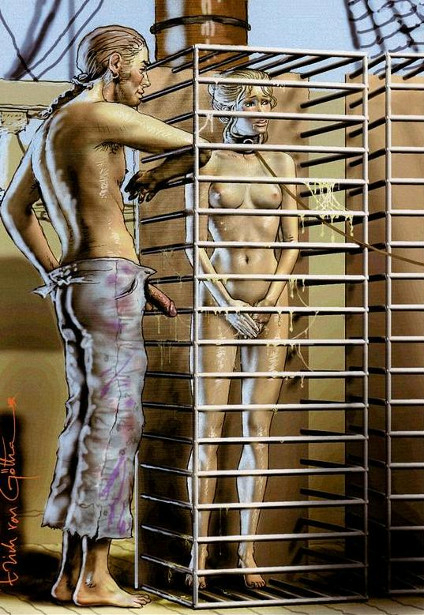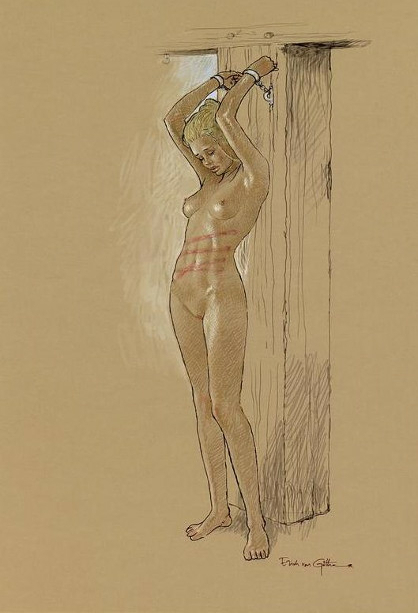 Click HERE for an extensive article with 76 lusty pics on the great Italian comic artist Milo Manara..!!
Can't get enough of Von Gotha's enticing bondage illustrations? You can discover over 150 other striking examples in our Premium section. Click here and become a member now!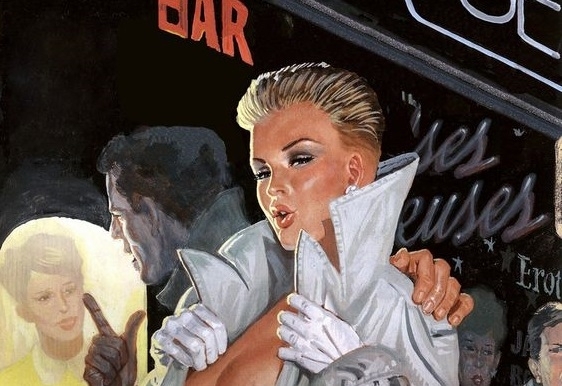 Sources: Honesterotica.com, Lambiek.net, Wikipedia.org
What do you think about the sensual imagery of Erich von Götha? Leave your reaction in the comment box below..!!