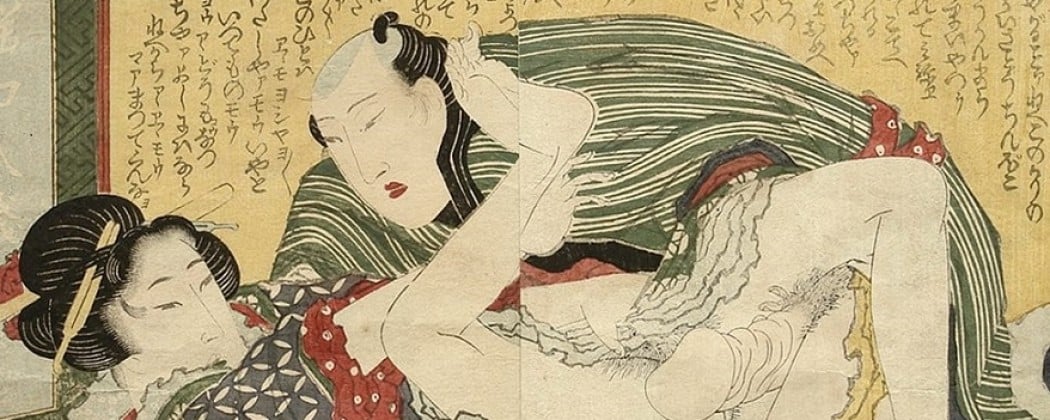 Original Hokusai Prints For Sale
Japanese greatest artist in history Katsushika Hokusai (1760-1849) excelled in all ukiyo-e genres. He produced his most iconic designs in the landscape (The Great Wave) and the shunga (The Dream of the Fisherman's Wife) genre.
The following Hokusai prints for sale are all available in our gallery:
Secret Encounter
In this monumental image we observe a lover's covert, hasty encounter with his mistress. He glances surreptitiously to the left; she has just come from the bath, after washing her long hair. According to the eminent ukiyo-e expert Richard Lane this is one of the masterpiece of the series. (Click here for more info on this print!)
Dozing Geisha
A tragicomical design featuring the climactic moment of a masturbating young male during a hot summer day. His left hand is still holding the undergarment of the dozing geisha that exposes her private parts and which was the subject of his excitement. An affecting scene like this shows the true mastery of an artist like Hokusai (click here to check out the price!)
Attentive Female Peeker
A courtesan and a beloved client are making love in a striking pose with the male sitting with spread legs while his female partner rests her feet on his chest. Look for the attentive female peeker in the other room. A classic Hokusai design from his acclaimed Manpuku wagojin series. (Click here to check out the price and more…!!)
Scarce
An excessively scarce egoyomi-e (calendar print) were already rare when they were issued in limited private editions for rich merchants and collectors at that time. The printing is exceptionally subtle, as is the use of pigments and techniques they are similar to surimono. The design is in the preferred Hokusai pose with the male penetrating his wife from behind.
Overpowering
An amusing scene from Hokusai's lesser known Overlapping Skirts series featuring a middle-aged horny client overpowering a geisha.
Striking Hairdo
Another piece from the Overlapping Skirts series portraying a rich merchant wearing a pink kimono and sporting a striking hairdo making love to a courtesan. His luxurious kimono is hanging over a screen that features a landscape. Click here for the price!
Click HERE for more articles on Hokusai…!!!
Click HERE for more than 30 original sensual Hokusai prints for sale that are available in our gallery…!!!