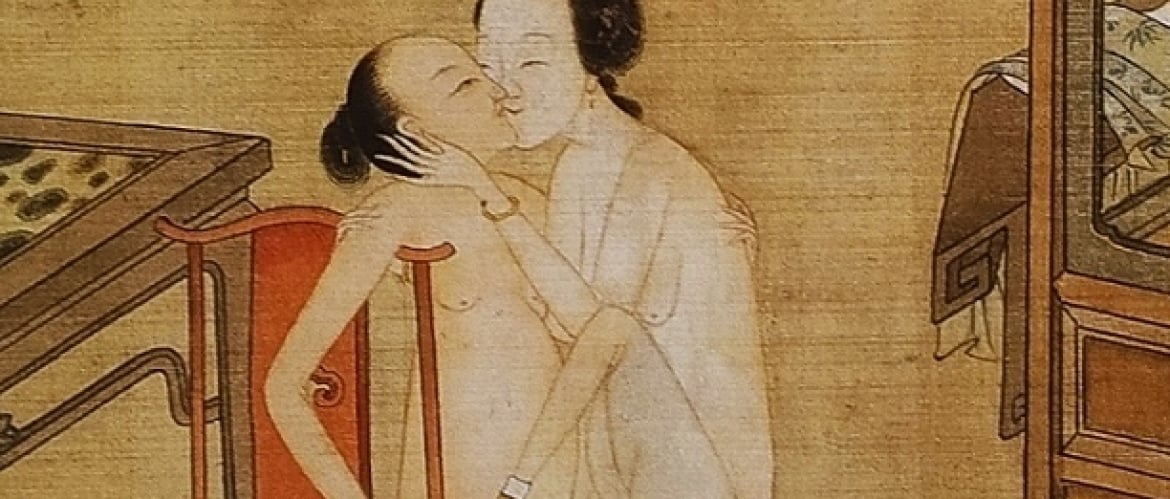 18th Century Chinese Album of 12 Paintings on Silk with Intimate Encounters
The images in this album do not refer to any of the well-known Chinese novels that often served as the basis for erotic paintings. The depictions are inventive and rendered from memory. However, we also see two more common humorous themes in the sixth image, a secret rendezvous, where the girl climbs out of a moon window, and in the ninth image, a man is caught by his wife and pulled by his ear. Although these paintings were made in the Qing dynasty, the hated Manzu braid is covered by a Ming bun, while the forehead is shaved.
Harmoniously Matched
The compositions have a static structure. Soft colors are translucent and harmoniously matched. Only the black, which also has a color function in Chinese painting, is opaque. In addition to the figures, much attention is paid to the environment. The moss and grass areas are very finely watered. See also the beautifully detailed pine tree in the eleventh image. It is striking that several times thinly painted landscape screens are depicted.
Failed His Imperial Exams
The artist shows a deep interest in this. He reveals an inner balancing act. With one foot he stands in the respected world of the literate, where writing, poetry and knowledge of the Classics predominate, with the other he stands in the much less valued world of crafts. Like many of his talented colleagues, he probably failed his Imperial exams. Nevertheless, he undeniably possesses theoretical knowledge and artistic skills. By fate, however, he is forced to perform artisanal work, often at the behest of wealthy merchants, who are themselves illiterate. Most of the erotic albums have come about from this background.
Shocking Changes
Especially after the Qianlong period (1736-1795) shocking changes take place in Chinese society. The opium wars lead to widespread impoverishment and the state exams are lapsed. There is also no more money for the civil servants, but they still know how to handle a brush. The album is signed by the painter Xu Guan.
Supreme Concentration
This painting (Fig.12) is the highlight of the album. From a beautifully landscaped garden, we have a view of an open room in which a woman bends over to let herself be loved. She dreams away in ecstasy, while the man narrows his eyes in supreme concentration. Their lovemaking is reflected in the entwining of the blooming plum blossom by the jagged rock formation. In both worlds the principle of the harmonious union of the feminine and the masculine, of the receptive and the creative, applies.
Click HERE for a Chinese erotic album revealing 12 intimate secrets from the third class brothel….!!
Source: 'Liefde en Lentebloesems' by Ferdinand Bertholet
Let us know what you think about Chinese erotic art in the comment box below….!!