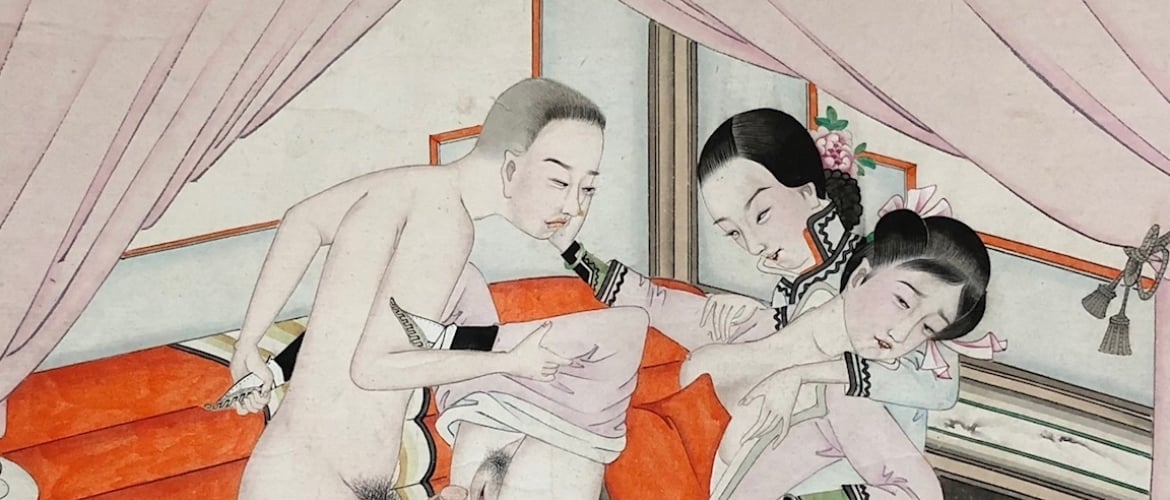 Chinese Erotic Art: Shanghai Decadence in the 1920s
The whirlpool of activity in Shanghai during the 1920s and 1930s was unmatched in the Far East. In the booming port city, there was a mixture of the decadence of old China and the crudeness of the new culture. The erotic scroll paintings below were made at that time. They are representative of a genre called Spring Palace Paintings, which showed sensual scenes.
Western Hairstyles
These pieces are among the last examples of paintings in traditional style. Although the style is classical, the portrayed men wear Western clothes and all protagonists have Western hairstyles. The ladies still have bound feet, and some keep the old Chinese stomacher to cover their breast and belly, the traditional way.
Black Handkerchief
A young Chinese girl directs her partner's penis to her private area while bringing a black handkerchief to her mouth in slight embarrassment. She is sitting on a pillow while leaning backwards to four rolled up blankets. Her male partner has kept his English woolen socks on.
Mirror
Young Chinese couple watching each other in the mirror. The girl is sporting a dildo attached to her heel.
Massage
Girl massaging her lover's private parts with her feet. His white Panama hat hanging on the door.
Mountain Lake
Stark naked couple making love on a sofa. The painting above them on the wall features a mountain lake.
Threesome
A threesome with one male and two females. The reluctance of the lying girl and the impatient advances of the boy are aptly-applied by the artist.
Mountain Village
Completely naked mature couple in the missionary pose. Above them a large painting depicting a snowy mountain village.
Mo xiong
A young male penetrates his female lover sideways while holding on to her mo xiong  or dudou (stomacher).
Western Sock Garters
Intimate couple in a tight embrace while passionately kissing. Like in the previous scene, the woman wears a traditional Chinese stomacher while the man still sports his Western sock garters that were popular at the time.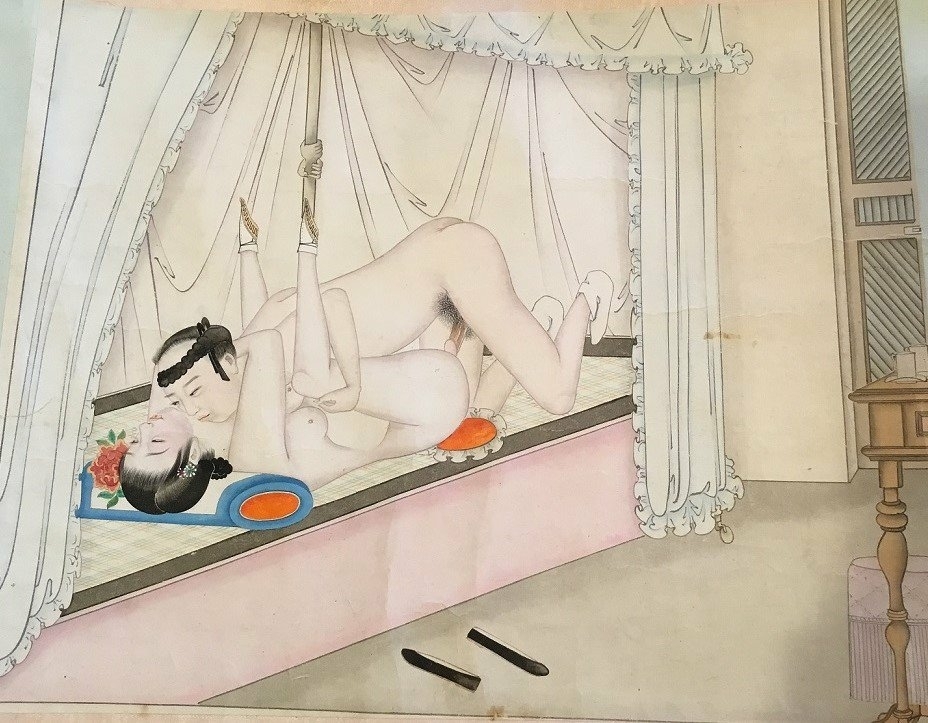 Pigtail
A male lover, his pigtail wrapped around his head, is passionately making love in the missionary pose to his female lover. A funny detail are the shoes of the man standing in front of the bed on an otherwise empty floor.
Become a Premium member now and check out many other exclusive content featuring Chinese erotic secrets not visible anywhere else....!!
Click HERE for some unusual Chinese erotic paintings featuring copulating dogs…!!!
What do you like more the poetic erotic paintings of the Chinese or the more in-your-face approach of Japanese shunga? Share your thoughts in the comments below!