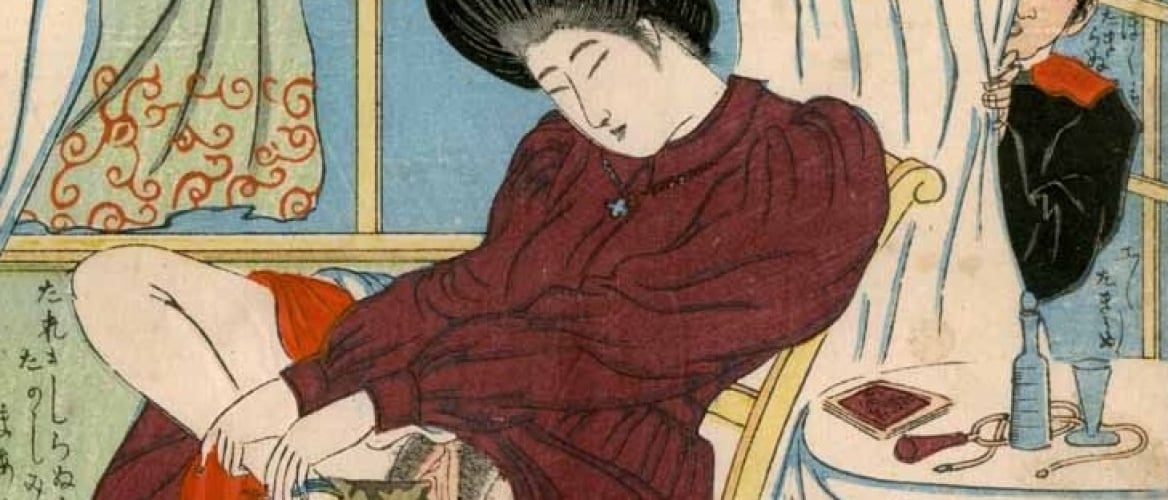 The Sensual Fantasies of Lonesome Masturbating Beauties
The portrayal of sensual female masturbation in isolated settings were a beloved subject of ukiyo-e artists. This applies to the Edo period (1600-1868) but even more so to the Meiji period (1868-1912).
Sensual Female Masturbation
Often self-satisfaction in shunga is performed by hand, but sometimes with the support of a device such as a harigata (dildo), Women in the act of sensual masturbation are also depicted experimenting with wooden objects, a sword handle, vegetables, sea-cucumber, and masks of the long-nosed demon-god Tengu.
Love letters
They are frequently shown looking at other couples, gazing at ukiyo-e prints of actors, or masturbating while secretly watching others or reading shungabooks. It is striking that the males and females shown masturbating while looking at shunga are clearly reading the text as much as examining the pictures. This, similar to the depictions of women reading their love letters, emphasizes the erotic power of the written word.
One of our loyal members Darya sent us a picture of an unusual design portraying a geisha watching a silhouette of an erected penis in the other room, which looks like a mushroom, while trying to please herself with mushrooms…
One symbol of the male organ was (and is to this day) is the matsutake, a large, aromatic mushroom with an obvious shape…
Envy
The woman's monologue in this design shows that she is fed up with her loneliness,'My husband doesn't come home easily. That's why I envy the couples in the other houses. It's better to have a husband than to look at shunga at home and do it alone.'
A Chinese example…
The following video also includes shunga with masturbating women:
Click HERE for a closer study on the Tomioka Eisen design of the sensual masturbating female in this post (fifth panel)…!!!