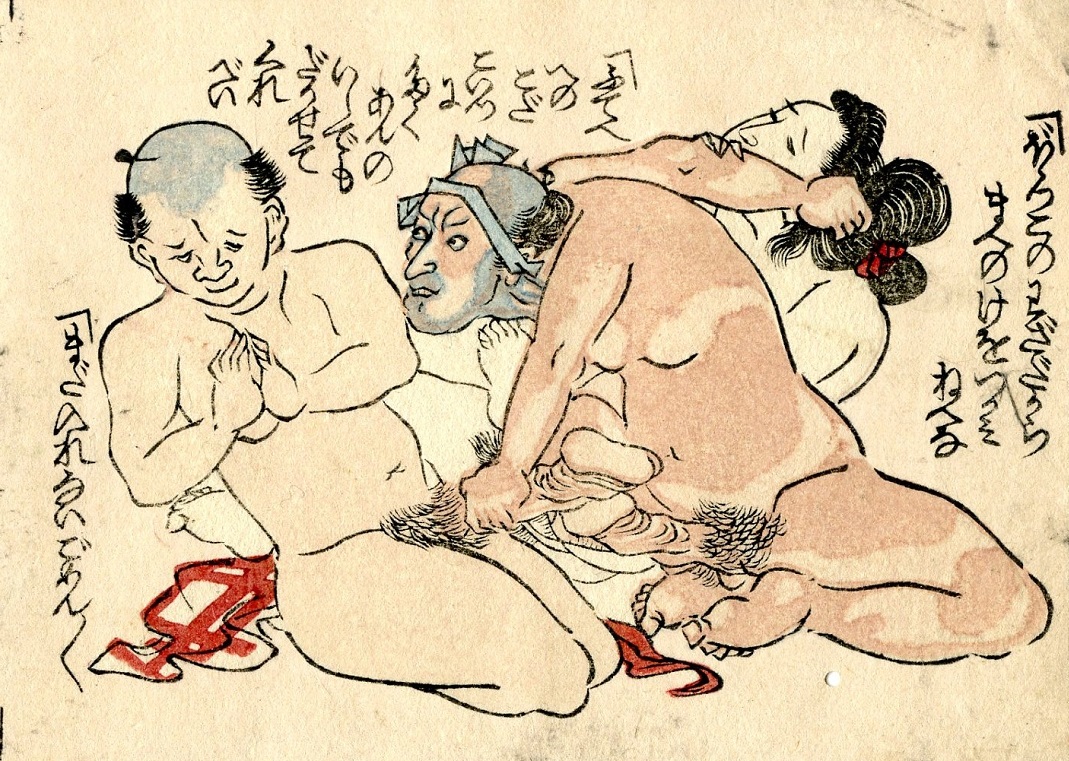 The Nanshoku Shunga of the Award Winning Scientist Brian Coppola
The award winning* scientist Brian Coppola, probably one of our earliest clients, is mainly focused on collecting nanshoku (男色, gay related images within shunga).
In the interview we had last week, he explains what intrigued him about this particular subject, cartoons, street art, his favorite pieces and artists, and the intersection of his profession and the passion for nanshoku shunga…
Can you tell us something about your background?
As of this interview, I am 61 years old and have been a professor of chemistry for 36 years. I have spent the majority of that time at one of the great public universities in the United States, namely, the University of Michigan (Ann Arbor, Michigan).
PhD
I was born and raised in the New England region of the US, most of the time in the state of New Hampshire, where I also attended the University of New Hampshire for my undergraduate degree. My PhD is from the University of Wisconsin-Madison.
Comic Book Fan
I have always had a deep interest in the visual arts, particularly line art and illustration. As a life-long comic book fan, the first serious art I ever started to collect was original comic art pages — starting with my first real paycheck in September 1982!
Amateur Artist
I am a rank amateur artist, myself, although I have managed to get a few of my cartoons published as illustrations accompanying articles for which friends needed some art. In fact, my first ten professional publications in the Journal of Chemical Education was a series of editorial cartoons called Animated Alchemy, in 1978. I had another series, a full strip called Under The Hood, from 1996-1999, in the now-defunct magazine titled The Chemical Intelligencer.
Street Artists & Editorialists
We will get to shunga and Japanese woodblock printing in a moment. Other genres in which I have interests are artworks by the so-called "street artists" (Faile, Evan Hecox, Breed, Grafter, ASVP). I do not have the resources to go after any recognized masters, but I do enjoy identifying artists, particularly young artists, whom I think have exceptional talent (Abbey Ryan is a painter, and at the top of that list). I have other interests: late 19th Century pen and ink illustrators and WW2-era editorial cartoons.
Ancient Artifacts and Modern Artists
Over time, I have developed relationships with some terrific artists with whom I have done commissions and a few series (Abbey Ryan, Oriana Kacicek, Barbara Kacicek, and the terrific Canadian illustrator, Gerhard), including jewelry and sculpture (the modernist Daniel Macchiarini). Among antiquities, I have a smattering of ancient Roman and Greek coins and jewelry, as well as Chinese porcelain from the 1600-1700s that has been recovered from shipwrecks.
My CAF site has most of my art collection on display.
You collect mainly shunga with nanshoku. What's your fascination with the subject?
Many of the modern street artists sell themselves on how they hand-pull limited prints and include idiosyncratic remarks on each one. This tradition had always fascinated me when I thought about how printing was done in the Asian cultures with hand-carved woodblocks, even through the late 1800s. Although photo-reproduction finally revolutionized printing in the East, moveable type had little effect with pictographic languages, and industrialization with metallurgy was needed to bring in etching technologies. I was never quite driven to collect woodblock prints, however, because it was difficult to sort through the sheer mass of different options.
Popular Culture
I was always aware of the unique look of shunga, but I was honestly unaware that there was any available until I came across your site in the late 1990s (kudos to the benefits of the internet). As I thought about what interested me, and learned more about the history, I found the fact that the public discussion about shunga was reasonably taboo, and particularly so in its original culture. The overlay of an interesting sociological story certainly gets my interest (maybe this is because I am a chemist, because science – and chemistry – occupies its own niche of misunderstanding in the popular culture!).
Nanshoku
My specific interest in nanshoku images exaggerates this sociological curiosity because it was clearly a taboo topic nested within a taboo subject. The sociology about sexuality in the modern culture has been a strong undercurrent for my generation. From the sexual liberation of the 1960s through the insightful views about the social construction of gender, we have all needed to unlearn so many of the things we were merely socialized into thinking we understood.
Same Sex Attraction
Terms such as "same-sex attraction" and "homosexual" and "gay" are remarkably modern terms that mainly derive from socio-political agendas, and the need to make psychological and medical classifications of behaviors. But these needs only arose in the late 19th century and into the first part of the 20th century. Before then, words for "homosexual" did not exist with the same-sex classification that we have all learned.
Discriminator
In these respects, then, labels such as nanshoku images embedded within shunga might not make any sense to someone in the early 1800s, and that is interesting. People were classified on their behaviors, so the role that one played ("recipient") was the discriminator, rather than what your plumbing happened to be. And without the division line of "same-sex" and "opposite-sex" as discriminators for attraction, attraction would not have been thought of as being restricted according to sex.
Tingling
For these reasons – taboo within taboo, interesting socio-cultural reflection – my collector's sense was tingling, and I started to seek out and cultivate a collection of nanshoku images. To me, art is simply one of many vehicles that can spur discussion, conversation, and learning. When artifacts are clearly of an era, and when our understanding has so radically changed, then forcing yourself to imagine how a person from that time understood these objects is compellingly interesting… because we will never actually know.
One Goes As One Goes, Then One Shall See
This last point compels me. I saw an exhibit of Medieval tapestries in 1996. One of them carried a motto along the edges "Vaille Que Vaille Lors se Verras" – which the curator had translated as "One goes as one goes, then one shall see." Without digging too far into this digression, this translation captures an important idea for me, and I have used this ancient quote as my signature for 30 years. As you look into it, you realize that there are no Medieval dictionaries, and we will never have any idea how close the translation is to the intended meaning, nor can we ever understand what its meaning might have been in 1520.
Gay Images
To some degree, nanshoku shunga is exactly the same. We view these as "gay images" from our 2018 vantage, but understanding them means trying to adopt a 1800s vantage. I find that to be interesting, particularly if I can push it out onto others.
Do you also collect other themes/objects or are you mainly focused on nanshoku?
I started with nanshoku, but the collection has evolved to include some "regular" shunga images that I liked, usually because they struck me as funny, and I really like getting whole books that display the integrated images. I have one exceptional hand-painted shunga scroll that integrates nanshoku, also. I have managed to pick up a set of 6 carved woodblocks from 1776 used to print 24 pages from a known shunga book, and a set of 5 woodblocks used to print a single, multi-color image from the early 1800s.
What's your favorite piece from your collection? And why?
Let us assume that we are talking about the collection of nanshoku, otherwise this is really difficult to say. I like the elegant simplicity of the nearly monochrome images from the 1700s, and many of the classical, elaborately constructed images from the 1800s. But I think my favorite image is the ca. 1820 image from Katsushika Hokusai (unnamed, unattributed source) that derived from the Bertholet collection (5 2/3 x 8 4/5 in, extensive use of metallic pigments).
Acrobatic Pose
Two fully naked men, seemingly the same age, locked into an acrobatic pose, defies nearly all of the nanshoku traditions (young/old, clerics, prostitution, actors taking women's role, etc). I have been convinced that the text on these pages must be revealing, but getting anyone to do the translations has been a challenge.
Do you have a favorite ukiyo-e artist?
The artists whose styles I recognize and attract me are Eisen Keisai (terrific sense of space in composition), and both Utagawa Kunisada and Koikowa Shozan for the classic scenes and sometimes humor.
What can you tell us about the plans for your exhibition?
When I read about the British Museum's dedicated shunga exhibit from 2013, I was intrigued by the stir this caused barely 5 years ago, and the fact that this exhibit was then actually displayed in Tokyo, afterwards, in 2015, following some significant controversy. Now that got my attention.
Small Gallery
I approached the Asian Art curator at our University Museum, to see if she might be interested in developing an exhibit around the nanshoku theme using my collection as the foundation. The idea has been pitched to the administration, and they were uniformly receptive. It is likely to be in a small gallery so that traffic can be regulated.
Mementos
I am hoping to work with a colleague from the art school who has experience in "photo-reproducing" woodblocks into useable facsimiles using 3D printing. I think it would be really cool to reproduce those shunga woodblocks from 1776 in a form where visitors could pull their own images as mementos from the exhibit. Our curator also knows the curator at the Tokyo venue that hosted the 2015 exhibit, so (fingers crossed) once our exhibit is put together, it might travel.
Click HERE for more collector's stories…!!!
All the above pieces are part of the Coppola collection.
*In January 2012, Brian Coppola was awarded the Robert Foster Cherry Award for Great Teaching, a $250,000 prize from Baylor University to honor an exceptional teacher.
**A Kagema is an ancient Japanese term for young male prostitutes, often closely related to the kabuki theater, during the Edo period.
If you enjoyed the interview or have any suggestions for future posts I would love to know your thoughts.
Would you be interested in visiting an exhibition on the nanshoku theme?
Please leave your feedback in the comment box below!