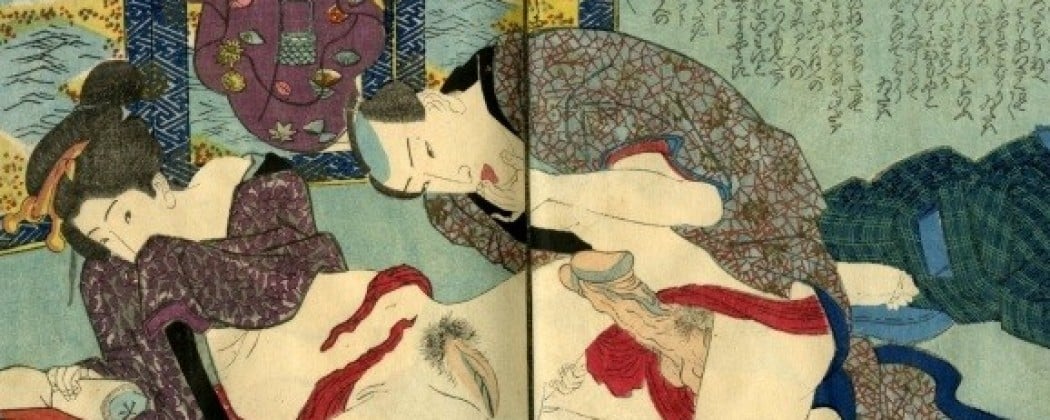 The Erotic Pictures From Kuniyoshi's Masterful Shunshoku Irifune Chô
Although I dived deep into my shunga library (which lacks very few books on the subject) and also thoroughly researched the internet about the ehon (book) below, I unfortunately could not find much background information about it.
Pseudonym
What I was able to find out is that the series is called 'Shunshoku irifune chô (The Ship of Good Fortune Comes in with the Colors of Spring/aka. Spring Scenery for the Launching of New Ships)', that it is signed Ichimyôkai Hodoyoshi ga, a pseudonym used by the artist Utagawa Kuniyoshi (1797-1861), and written by the author Ryûtei Tanehiko (Japanese, 1783–1842), and that it was issued c.1837.
Hayashi
There is a reference to a book called Enpon kenkyû Kuniyoshi (1964) written by the eminent shunga expert Yoshikazu Hayashi that is not in my possession yet (if anyone of you can tell me more about this publication please don't hesitate contacting me!).
Important Work
I also know 'Shunshoku irifune chô' is considered to be an important work (some of the designs have inspired other artists!) and that it's part of the collection of several museums such as the Museum of Fine Arts Boston but besides that I couldn't find anything at this moment.
Anyway, you can find all the erotic pictures from the three volumes below…
http://www.kuniyoshiproject.com/Shunshoku%20irifune%20cho%20(shunga).htm  (op Premium zetten)
Volume I
Volume II
Volume III
Click HERE for a striking fold-out erotic picture by Kuniyoshi that portrays a secret encounter taking place in a crowded restaurant…!!
*In Japanese culture both the deer and the bat are a symbol of longevity and of good luck. Therefore they are sometimes portrayed together on prints and paintings.
What is your favorite design from this series? Leave your reaction in the comment box below…!!