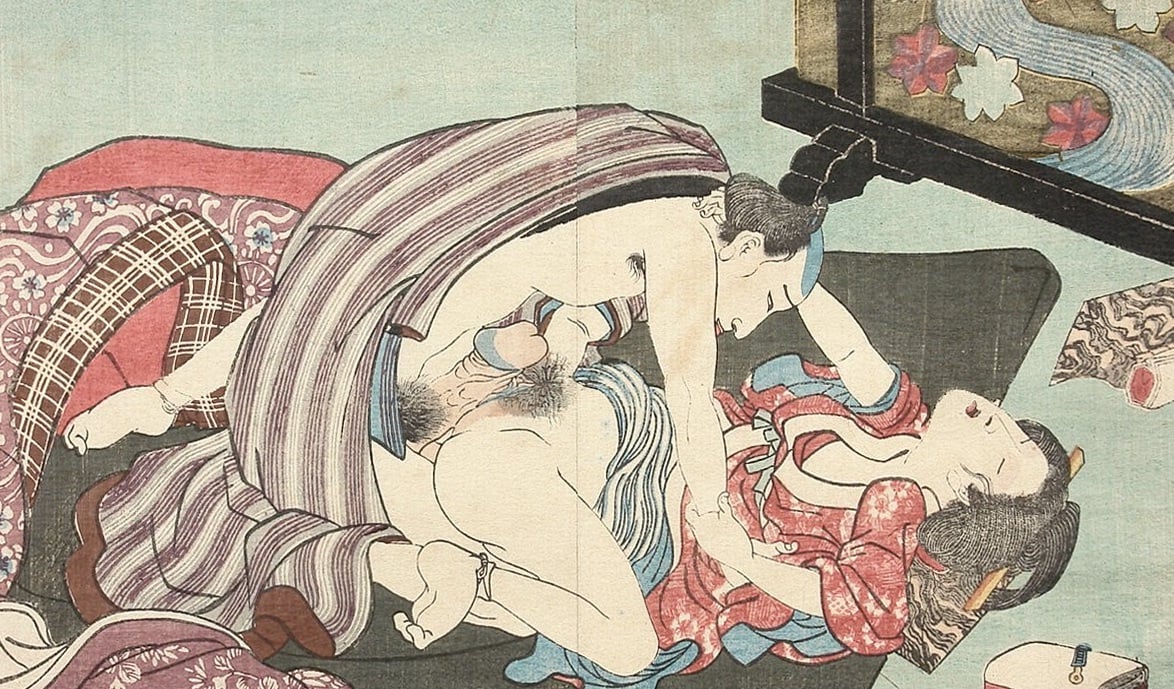 Beautiful Erotic Kuniyoshi Prints For Sale (P1)
Kuniyoshi (1797-1861) famous for his Suikoden Heroes series was also gifted at representing erotic imagery. He is responsible for designing some of the boldest examples in subject and form.
The Kuniyoshi prints for sale below are all available in our gallery. When you click the concerning image you can find the price:
Giant Tattoo
Splendid and often reproduced design portraying an intimate couple whose attention is drawn by something outside of the image. Kuniyoshi paid a lot of attention to the details of the giant tattoo on the back of the male. The Flower's Smile series was a well-known publication and was duplicated several times until the Meiji period. The absence of text within the image is a striking feature. This original series from the 1840 period is a rare find nowadays.
Wild Passion
A virtually naked couple is intensely making love during a hot summer night. Their wild passion and insatiability is underlined by the crumpled tissues and the disconnected mosquito-netting.
Fertility
Another influential design from the The Flower's Smile series with a man interrupting the penetration of his female lover so that she can enjoy her orgasmic moment. The screen in the background depicts a stream which refers to fertility and purity.
Cat Lover
A superb design in which the blanket is used as to divide the composition. Kuniyoshi was an avid cat lover and he includes the animal several times in this series.
Lenient
A man is having anal intercourse with his lenient partner. The shunga book that lays in front of them serves as inspiration. A great erotic design that combines two rare themes.
Pose 69
An unusual and masterful piece with a couple performing the 69 sex position.
Oval Shape
A completely naked woman is sitting on the lap of her male lover. Together they form an oval shape. The pose of the woman seems to emulate in reverse that of the sleeping cat.
Click HERE for more Shunga Prints For Sale!
Click HERE for Part 2 of Kuniyoshi Prints For Sale!