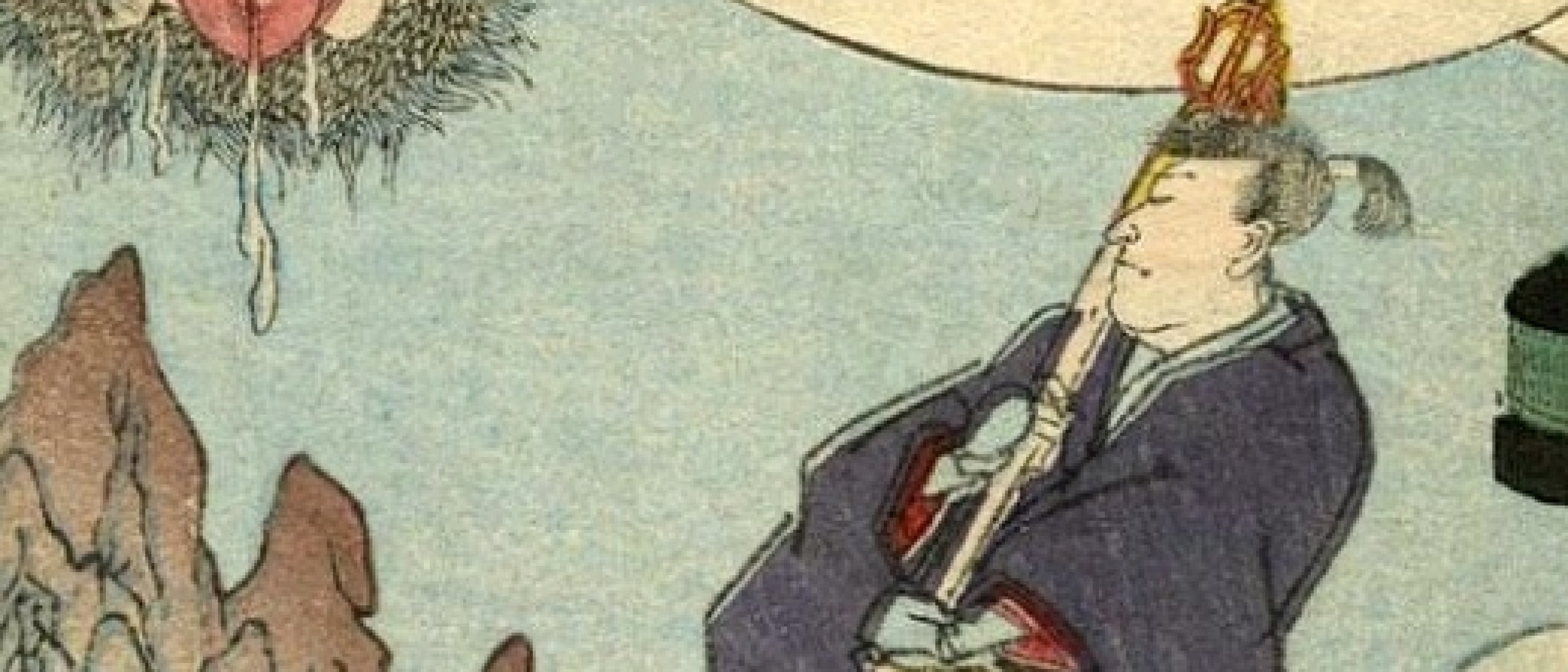 Kuniyoshi's Excellent Erotic Ghost Series Featuring Phallus and Vulva-Shaped Demons (P1)
In this magnificent series called 'Ghost Stories: Night Procession of the Hundred Demons (Kaidan hyakki yagyô)' the artist Utagawa Kuniyoshi (1797-1861) displays his comic genius like no other.
These small koban-sized (c. 3 1/2′ x 5′ inches) designs show male and female genitalia disguised as various demons and ghosts. The title on each print is often vulgar and ambiguous with witty names for the demons.
Although the individual prints are not signed, the wrapper is signed 'Ichimyôkai Hodoyoshi ga'. It is known that Kuniyoshi has used this signature in his shunga work. The set most probably consists of 24 designs (2 x 12).
Cover sheet of the series displaying a toy in the shape of a cat-person.
Umi-bôzu (sea monk) was a giant demon that emerged from the sea to haunt ships.
Emma, the king of hell, oversees the copulating among the hungry dead (gakidô). In ukiyo-e dead people are portrayed with a blue skin.
A hilarious depiction of some kind of mountain god (half-human, half-rabbit) with a penis-shaped belly and his vulva-shaped face.
A parody on Hitotsume kozô (cyclops) who was a worshipped and feared demon. This four-eyed adaptation holds a rope called higozuiki, a dried taro (arum maculatum) stalk. They were used as a sex toy.
An older male in a brothel has gone berserk when he encounters a giant ghost disguised as a courtesan.
A traveller holding a walking stick standing underneath a dripping vagina-shaped mountain cliff.
The Japanese word Gyokumon is also slang for vagina. This scene features a mysterious stranger standing in front the entrance to a prison (gokumon). On top of the entrance gate lays an executed criminal's head with a vagina-shaped face.
Jiraiya was a gallant robber (some kind of Robin Hood) who stole from the rich and gave to the poor. In one of the stories he goes for a walk in Mt. Myoko and rescues a giant frog from a serpent. This toad ends up being a wise immortal who lived in the mountain. He teaches Jiraiya toad magic, which allows him to do many absurd deeds including metamorphosing into a giant toad.
A vulva-faced demon performs fellatio on a sleeping man who is lying underneath a mosquito-net.
Click HERE for part 2 !
If you are a fan of Kuniyoshi I can recommend kuniyoshiproject.com/ . The site is a great and comprehensive database solely dedicated to this unique artist.