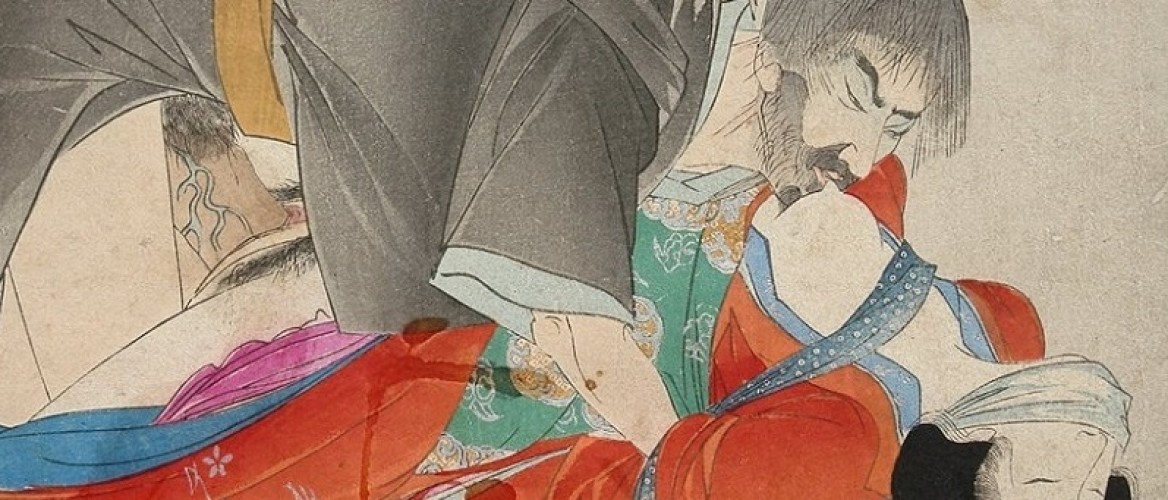 How to Pick the Right Angle to Start Your Shunga Collection
Some people get overwhelmed by the wide range of subjects and themes within the shunga genre (thousands of books, prints and paintings were issued between 1600-1912) and therefore do not make a choice and select a topic. To make it easier and to find a path in the large amount of possibilities I have added some tips and suggestions that show you the ropes on how to choose and build a shunga collection.
Subject
First of all, I would advice you to go for a niche, a specific sub-theme within the shunga genre such as designs with tattooed protagonists, hilarious foreigners, on famous novels such as the Tale of Genji, fascinating gay encounters, colorful mosquito-net images (that involved a complicated printing process).
Grotesque
Other examples are the sensual lesbian love scenes, intriguing bathhouse, grotesque portrayals of gods and monsters, shameless bestiality, the popular close-ups of genitalia, the ingenious toy prints, or one of the many other options that appeal to you personally.
Artist
Another nice option is to focus on one particular artist whose style you appreciate such as Kunisada, Keisai Eisen, Kuniyoshi, Kyosai, Hokusai or Utamaro. An artist like Kunisada was a prolific producer of shunga and designed some iconic images. His touch was soft, like that of his master Toyokuni. He was a master at capturing the public's attention and often commissioned to design the most luxuriously printed shunga books.
Unromanticized
Or maybe you are more a fan of the unromanticized style of Keisai Eisen, the robust, dynamic figure work of Hokusai, the subversive designs by Toyokuni, Utamaro's versatility, the playfulness of Kuniyoshi, the comic genius of Kyosai, the poetic imagery by Harunobu or maybe Koryusai's boldness.
At the time these artists were seen as craftsmen but over the centuries due to their influence and impact on Western art, they have taken a prominent place in art history.
Subject
A specific era can also be a good starting point for your collection. Maybe you are drawn to the specific stylistic features of a period. The designs of Meiji era, for instance, are more realistic and the Western influence is clearly present. Or perhaps the primitive style of the earlier period with its minimalist, naïeve representation, appeals to you more.
Size
Some people are attracted to the size of the print or painting. Artists like Harunobu and Koryusai designed a lot of prints in the chuban format (c. 10 2/5″ x 7 2/3″ inches) which required a different approach than the larger oban format (c. 15 1/3″ x 10 2/5″ inches) in which Utamaro and Hokusai excelled. The smaller koban size offers the artist a more limited space where he has to focus more on the direct intimate sensuality.
Combination
Another interesting starting point is to combine some of the above options, such as tracing the rape scenes done by Kunisada (who was specialized in this sub-theme), or shunga featuring cats by Kuniyoshi, Meiji shunga depicting nurses, tattooed Suikoden Heroes by Kuniyoshi, the options are endless.
Illumination
Collecting shunga gives a connection with the past, the opportunities for study, reflection, self-knowledge, self-realization, satisfaction, illumination and is a wonderful way to enjoy rare pieces of art.
Value
When you follow this plan over the years, and select the shunga pieces within the subject of your choice, not only your knowledge and enthusiasm will grow but also the value of your collection. We have helped collectors to build a collection within a specific field that can compare with those of museums.
Freedom
Shunga prices have risen consistently in the last decade and, given the gradual increase in freedom relating to the subject in Japan, will probably continue to increase. By taking good care of your collection, you will be enhancing its value and, more importantly, you will be helping preserve an important part of the art and history of Japan and the world.
All the above pieces are available in our gallery and the price can be found when you click on the specific image…!!!
If you need more guidance please feel free to contact me…!!!
What is your favorite theme, artist or period? Leave your reaction in the comment box below!