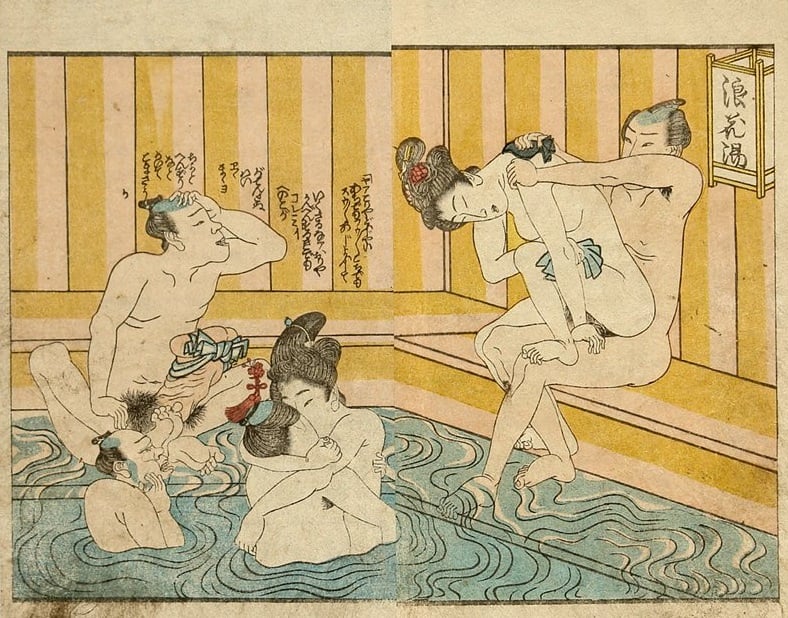 Collecting Shunga with Bathhouse and Seashore Themes
For our site ShungaGallery.com I interview artists and collectors who are passionate about shunga and erotic art. One of our clients is a serious Florida United States collector (he wishes to be anonymous) who collects bathhouse and swimming related themes within Japanese woodblock art. He bought many of the shunga pieces that are part of his collection from us and I asked him if he would be interested in telling us about his collection. He told me the following:
Bathing Themes
Marijn, as you have seen from my purchases, I have been primarily buying images in the bathhouse or at the seashore. These tie into my swimming and bathing themes that are seen in all of my Japanese Woodblock prints of the 18th-20th centuries. I also have a collection of several hundred photographs from the bathhouses and hot springs of Japan before and after 1900. These show communal bathing and also swimming contests.
Lack of Nudity
All of these surprised and delighted me when I first saw them because of a general lack of nudity in most Asian art. They have all been given to the University of Florida's Harn Museum in Gainesville Florida. The university has over 50,000 students and is where I studied law.
Swimmers and Bathers
When I first started collecting, I looked at tens of thousands of images to define what were the important collecting themes with swimmers and bathers. The best archive was the Boston Museum of Fine Arts, but museums in Japan, New York and London also offered thousands more. I assembled a library on Japanese Woodblock Prints and Japanese photography. I then put about 500 of those into a book that I published for myself in one copy through Blurb.com, and then I set about finding the prints. There is a shunga section showing shunga fantasies in the bathhouse and on the seashore, and many of those illustrations are of prints that I bought from you.
Fascinating to Learn
Over a period of years I collected some 300 of those images from dealers located around the world. from London to Japan. The variations in the subjects were fascinating to learn about and served to introduce me to a cross-section of the development of Japanese print making over many years. At one point I even lectured for three hours (!) on Japanese prints at the local University of South Florida, to a room packed with students and a few professors.
What attracted you in these themes?
For 35 years I have collected Greek and Roman antiquities, many of which show theater or athletes. I then collected photographs on the classical tradition, including the classical nude. A major exhibit of those photographs was the subject of an exhibit in Sydney, whose catalog you can see here.
Cover Nudity
When I became interested in Japanese prints, swimming and bathing seemed a logical theme for a Florida collection and a convenient theme that would cover nudity in Japanese print making and Japanese society. I had already begun to collect photographs from around 1880s through 1920s of the hot springs baths and the onsen images showing individuals and families bathing together.
Harshness of the Samurai
My collection of several hundred of these has also been given to the University of Florida's Harn museum. They show a lifestyle of military and student camaraderie and family living that is shocking to many western traditions. These images also reflect a gentle Japanese perspective that is at odds with the harshness of the samurai and the aggressive male domination in the brothel scenes depicted in the shunga prints. I also have given family photograph albums that trace the life of an individual from his childhood until the outbreak of World War II.
Although his 'swimmers and bathers' collection covers all the Japanese woodblock print art from the last 300 years we have included some of the shunga examples from the collection below:
Click here for an extensive description of this famous design…
Impressive Member
Hilarious orgy scene involving two women and four men. One of the onlookers has attached a female headband to his impressive member. The hair-pin is still in it.
Sensual Steam
An exalted couple, both with their eyes closed, in an intimate pose with the woman sitting on the man's lap. The steam comes from all angles and holes and reinforces their amorous encounter.
Pouring Rain
Nude couple kissing while sitting on the floor near a wash tub. The woman is holding the erect member of her patron while he strokes her vulva. The pouring rain outside adds sensuality to the scene.
Curious Servant
A completely naked couple are making love near the bath. A servant carrying a tray with tea and food is watching them while climbing up the stairs.
Geta Clogs
A woman is taking a bath in her wooden washtub standing in the garden. Her tall geta clogs and kimono have been placed on the ground and a bench. She is seized by surprise by her lover from behind. His sensual enthusiasm is visible from under his kimono.
Heavier "Load"
Humorous scene with the bearer in front carrying an attractive woman on his shoulders across the river. His erection has risen above sea level, attracting some curious fishes. The bearer behind him is less satisfied since he has to carry a heavier "load". The couple in the back are engaged in some dalliance while the four bearers remain stoic.
Latest Fashion
Young couple at the beach wearing their latest fashions and straw hats getting intimate. Kogyo made a similar design with a couple standing in the surf.
More exciting bathhouse scenes…!!!
If you also want to tell us about your shunga or erotica collection please don't hesitate to contact us…!!!