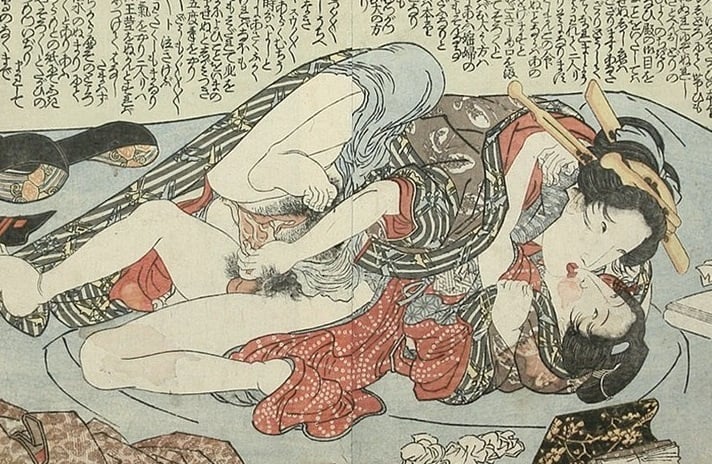 Shunga With Mating Animals By Utagawa Toyokuni
This time we'll have a closer look at a striking shunga series that is available in our gallery that was most probably designed by the ukiyo-e master Utagawa Toyokuni I (1769-1825), who was the founder of the influential Utagawa school.
The above scene is a spectacular fold-out double page image (shikake-e/trick picture) that features a depressed male who is encouraged to get aroused by female bystanders. When the tabs are opened (click on the image!) we can see his complete metamorphosis. Now they are surrounded by even more copulating animals such as mouses, dragonflies, reindeers, crows and even exotic animals such as camels and many more (see Fig.2)!
The size of the print when closed is 10 4/5" x 8 1/2" inches and when opened 15 3/4" x 11" inches. The impression is excellent and includes metallic pigments. The colors are very good as is the condition. It has some tiny wormholes which are tissue backed, a slight backing and some minor wear and soiling.
The style and the specific use of color is an indication that the series is from the early 1820s and most probably is created by Toyokuni I.  Although his work in shunga is scant, he was among the most productive designers of actor prints in the early 1800s. His specific style of portraying male actors as can be seen in the facial features (the 'Toyokuni face' – toyokunigao) of the male hero in this print is a strong indication.
A trained Japanese hooker (Fig.3.) overwhelms a young inexperienced male while passionately making love to him. The print has a fine impression, very good colors and is also in a very good state with only some minor staining, marks and flaws. The size is 10 4/5" x 8 1/2" inches.
A highly amusing scene (Fig.4.) with some young bookbinders who entertain themselves by watching the copulating pets. The bald-headed boy is a young Buddhist monk. The impression of the print is very nice (fine) with metallic pigment. It is in a very good condition with some tiny holes, some minor loss of paper due to the use of metallic pigments. The size is 8 1/2″ x 6″ inches.
The following video offers other shunga designs including animals:
Click here if you are interested in purchasing these and/or any of the other designs or if want to check out more info on these Toyokuni shunga's!
Click HERE for a subversive scene by Toyokuni involving a corpse…!!!
Grab your change now because the prices of shunga will only increase over time!