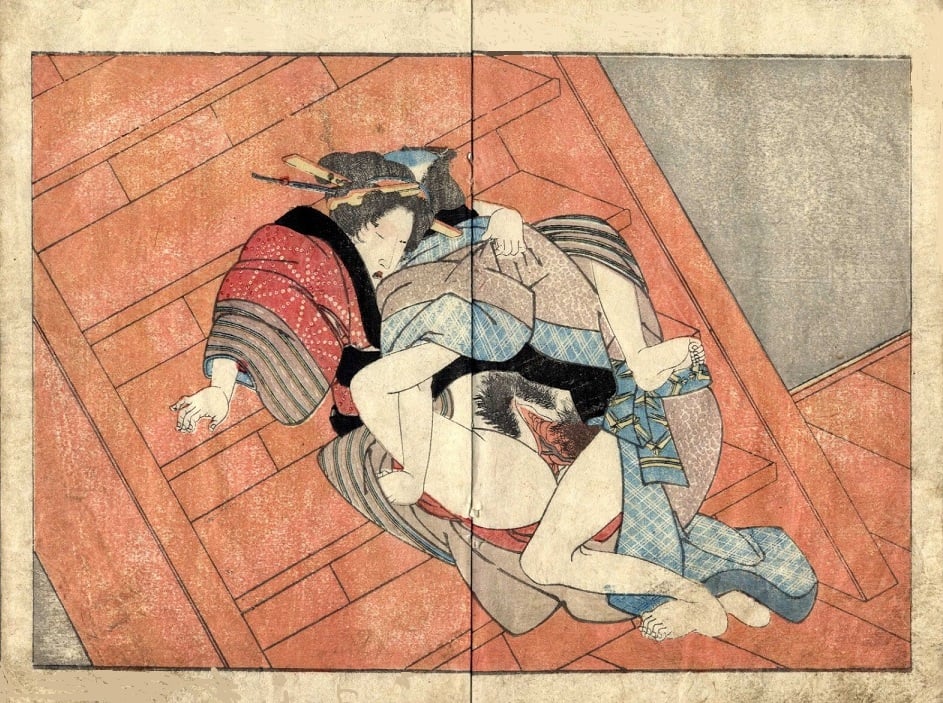 Secret Sensual Rendezvous with "Staircase Sex"
Sequential images that take place in the same location are pretty rare in shunga. They were often included as an extra feature for the entertainment of the reader and/or to emphasize a certain detail in the storyline of the shunga book.
Fantasy Places
The two sequential images below are from 'Ikuyo monogatari' by Utagawa Toyokuni (1769-1825). They take place on a staircase in a brothel near a balcony. The influential Japanese scholar Haga Toru explains that a staircase is an unusual architectural feature in a Japanese house. It existed only in the houses of the wealthy, in tea-houses and theatres. He names it as one of the preferred 'fantasy' places for quick precarious sexual encounters.
Ikuyo Monogatari
The first name of the title Ikuyo (Iku yo) literally means "I will go" or "Let's go". It also a popular girl's name in Japan. Monogatari is a literary form in classical Japanese literature, a lengthened narrative story equal to the epic. Monogatari is closely related to facets of the oral heritage. It is often tied to a fictional or fictionalized tale, even when retelling a historical event. Some of the most famous Japanese fiction such as the Genji monogatari and the Heike monogatari, are in the monogatari style.
Hokusai also included a nice variation on this theme in his The Jewelled Merkin series from 1821…
Click HERE and check out a violent example from Toyokuni's Ikuyo Monogatari-series..!!