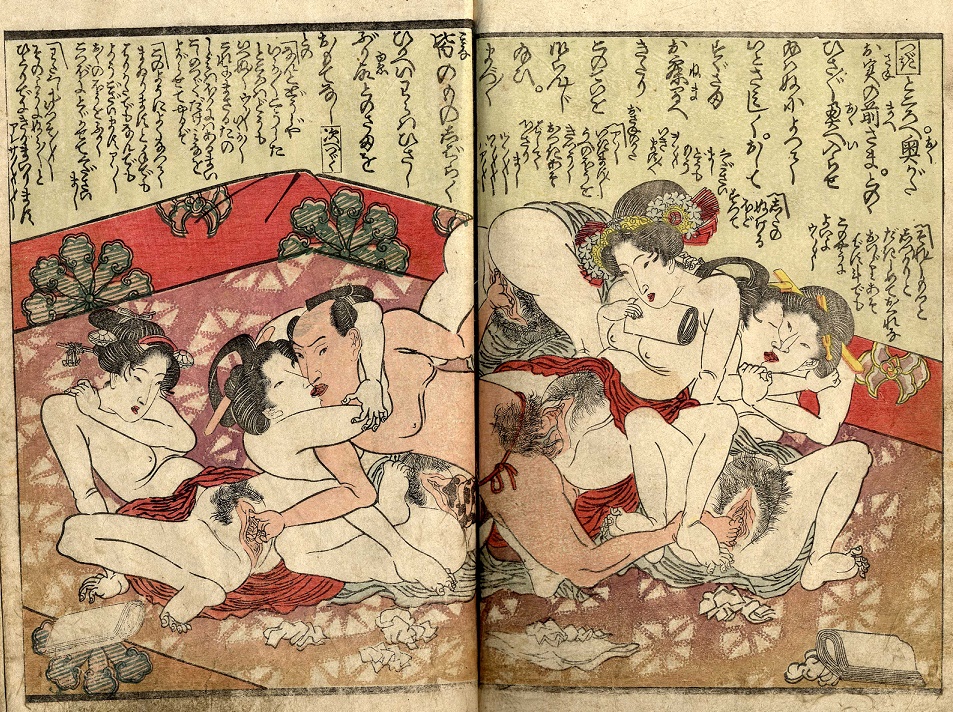 Utagawa Kuninao and His Sensual Abundance of Phallic Related Orgies
Utagawa Kuninao (1793-1854) was a ukiyo-e painter, print artist and illustrator. He first studied Ming painting, then ukiyo-e under Toyokuni, and later he became a follower of Hokusai. Kuninao was a prolific artist, illustrated many books, and his work was popular. Although productive, his work is now scarce.
Phallic Humor
In the shunga book series 'Wakamidori' (c.1827), Kuninao shows his great sense of humor. It's in the characteristic Utagawa school-style of that time but he adds many comical details. The designs are strikingly phallus-oriented (with many phallic sex toys), as if the penis is a character on his own.
Film Noir
The hilarious facial expressions of the male protagonists are a real treat. They remind me of the character actors from the film noirs of the 1940s who gave color to these films.
Click HERE for another great shunga book series produced by the ukiyo-e master Utagawa Kuniyoshi….!!
This book set will be available for sale at short notice. If interested, you can inquire about it by clicking HERE now.!!
*In Japan, the peony symbolizes wealth and prosperity. The red peony is the most prized, and is believed to have the strongest ties to honor and respect.