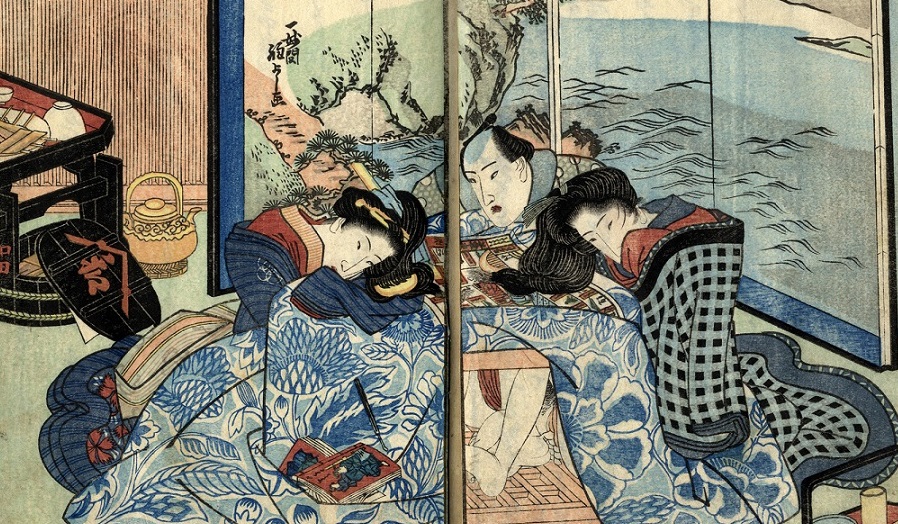 The Sensual Board Game Sugoroku by Utagawa Kuniyoshi
Tsukushi matsufuji no shiragami is an erotic parody of the kabuki play Karukaya (Dōshin tsukushi no Iezuto). It was first performed in the eighteenth century in Osaka and later revived, making its debut in Edo at the Kawarazaki Theatre in 1830. The play was an overwhelming success.
Kai Means Vulva
The plates of the shunga version loosely refer to the scenes from this wordy play, which lacks a clear story line. Kuniyoshi's pseudonym 'Ichimyōkai Hodoyoshi' appears several times in the three books. The character kai used in his name Ichimyōkai also means vulva.
Acrobatic Ensemble
Two women and a man entertain themselves in an acrobatic ensemble (Fig.1.). The screen in the background depicts a coastal scene. What this scene has to do with the kabuki play is uncertain. Maybe the river in the screen is the Kitsune River, which figures prominently in a number of scenes.
Lubricating Ointment
It is suggested in 'Japanese Erotic Fantasies' that this design (Fig.2.) refers to the deflowering of Yushide, In that case, the shocked female in the doorpost is her mother Hashidate. The two shells on the floor in the foreground are perhaps the container for a lubricating ointment. The signature 'Ichimyokai Hodoyoshi' appears on the background screen.
Board Game Sugoroku
In this scene (Fig.3.) we can see Chidori and Maki (no) Kata play the board game sugoroku*;  the character  of Shigeuchi looks on. The table cover can be lifted (Fig.4.) to reveal what is going on underneath the kotatsu (heater).
Recently I came across this state of the "Sugoroku" design that lacks the flap…
A similar design was produced by Kunisada a couple of years earlier…
Click HERE for many exciting articles on the sensual art of the extraordinary Kuniyoshi….!!!
Click HERE to check out the whole set…!!
Source: 'Japanese Erotic Fanstasies' by Chris Uhlenbeck and Margarita Winkel
Let us know your thoughts on this article in the comment box below…!!
*Sugoroku (means literally 'double six') is a Japanese board game that exists in two versions: ban-sugoroku ('board-sugoroku'), similar to the western backgammon and e-sugoroku ('picture-sugoroku'), which is similar to the western Snakes and Ladders.