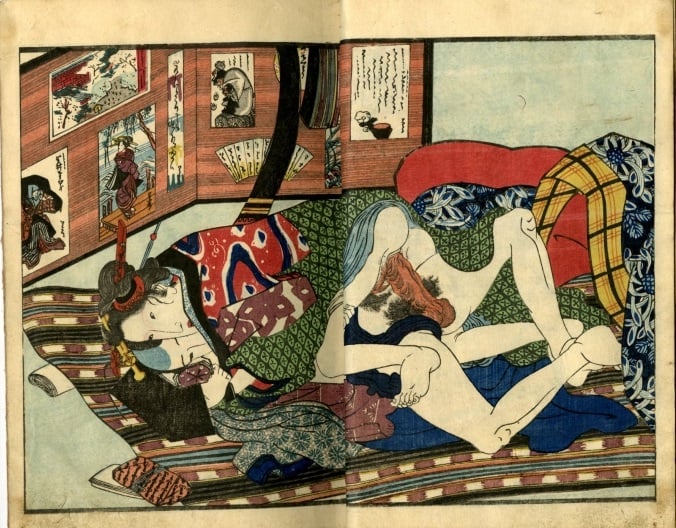 Recently Discovered Erotic Book Series 'The Seven Flowers of Autumn' by Utagawa Kunisada
Below you can check out the sensual images of a rare complete book series by Utagawa Kunisada. The title is 'Aki no Nanakusa (The Seven Flowers of Autumn)' and the year of production is 1832. Size (book closed) is 6 1/8″ x 8 2/3″ inches.
Trimming Toenails
The books include a lot of striking scenes and starts off with a wonderful collection of single-page designs portraying secluded females performing various activities such as grooming, trimming toenails, fingering while reading a shunga book underneath a kotatsu (brazier), cleaning their genitals, lighting the lantern from under a mosquito-net, and peeking while sitting in a public toilet. All images revealing a glimpse of their private parts!
"Lesbian"
Two single pages deviate from the other ones and depict "lesbian" street dogs copulating behind a fence and an "innocent" trick picture with a female holding a kettle.
Secret Hiding Places
The eleven double page illustrations show a lot of passionate encounters in various places taking place within the pleasure quarter, such as shops, brothels, in the open-air and secret hiding places. Also includes a trick picture with a courtesan and a client during an awkward post-coital moment and – when the flap is turned – the sensual moment after.
Fine Impressions
The prints have fine impressions (nice use of metallic pigments), colors and are in a very good condition with minor marks and flaws. Ink staining to the dog scene. The books have some rubbing, creasing and foxing.
Click HERE and check out another rare complete erotic book set by a famous colleague of Kunisada…!!