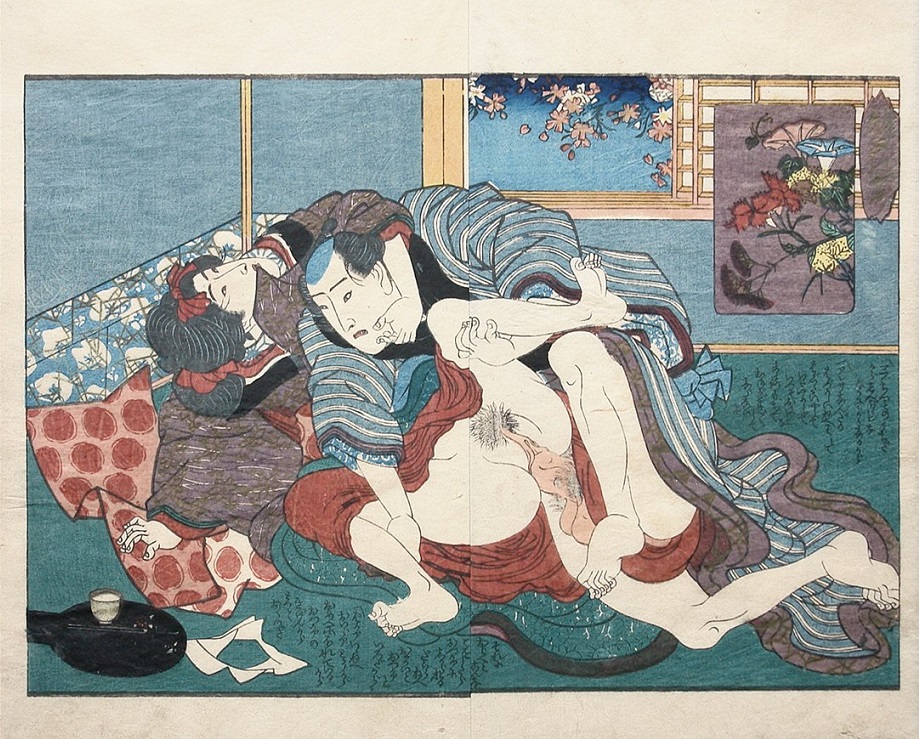 The Sensual Erotic Drops of Flower Petals
The identity of the artist in this work is still unclear. In his personal notes regarding this impression in the Pulverer collection, Jack Hillier argued for an attribution to Eisen due to the quality of the floral cartouches and the facial expressions.
Pseudonym
One of the pages is signed with a pseudonym, which could be read 'Gonomon Shunjono' or 'Shunjoshin', but to date no artist has been linked to this name. If we are to accept an attribution to Eisen based on stylistic grounds, then perhaps it should be dated to the latter part of his career.
Mimic
A couple tries to mimic the position of the figures in the shunga book before them on the floor. The girl brings her hand up to her mouth in what appears to be slight embarrassment. An unidentified signature appears on the Mount Fuji screen to the right.
Genus
The composition of this design is dominated by blues and reds. The term nadeshiko is a reference to the genus of showy flowers belonging to the Caryophyllaceae family. They are illustrated in the cartouche in the upper right.
Kingfisher
A woman is checking if the coast is clear while at the same time using her legs juggling with the man's penis. On the sliding doors a large depiction of a snowy landscape. The insert image (koma-e) illustrates a kingfisher.
Click HERE for another appealing shunga design from the 'Flower Petals'-series depicting a spectacular snow scene…!!!
Click HERE for all the available pieces from this series including prices that are available in our gallery…!!!
Source: 'Japanese Erotic Fantasies, Sexual Imagery of the Edo Period' by C. Uhlenbeck and M. Winkel