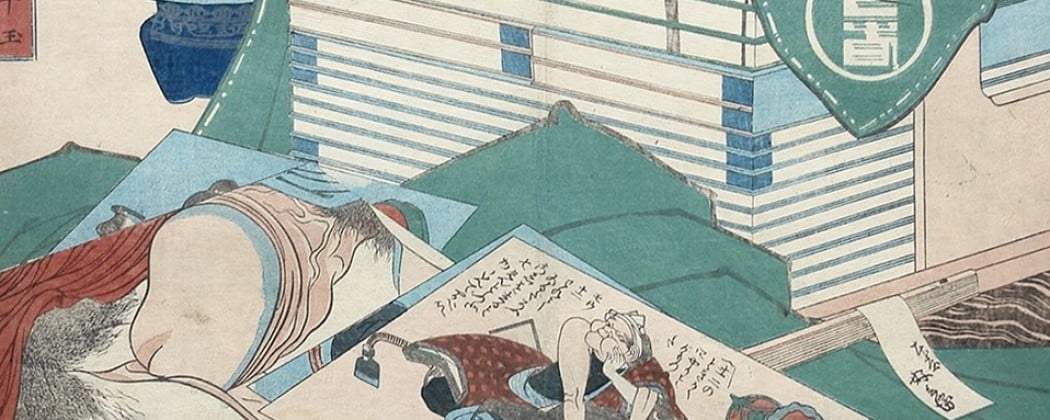 Shunga paintings and prints sometimes include shunga within the image. Often this was a cheeky homage to the genre itself, with the images displaying an open shunga book visible next to a couple in the midst of having sex, offering a handy guidance.
Mood-enhancer
In other cases, shunga books were added as a mood-enhancer to the involved protagonists or as a means for one of the lovers to seduce their partner. The images that show the portrayed couples mimicking the sensuality in the books (Fig.1 and 2), are probably not a representation of reality since the poses and activities as shown in shunga are in fact physically impossible.
Below you can find 8 striking examples of shunga within shunga…
Genji-mon
The blue frame surrounding the image including the flower motifs and Genji-mon (Genji crests) was a typical feature of the shunga issued in the middle and second part of the 19th century.
Lustful
This completely nude couple is so lustful that the man even has penetrated the tissue used to clean their genitals in their previous session. The fan laying beside them depicts a kingfisher.
Breast Massage
The female is an oiran – a geisha from the highest class – and she was playing on her koto* when her client could no longer control his urges. He is taking her from the rear while passionately massaging her breasts. Remarkably, the pages in the book in front of her don't depict an explicit scene.
Instructor
A young male examines the private parts of his mature "sex instructor" after they have studied the shunga books in front of them. A shamisen (a tree-stringed musical instrument) stands in the background.
Shy Spouse
A young adult man tries to convince his shy spouse to look at the intimate scenes featured on an old shunga scroll. In an earlier post I treated this design in more depth.
Self-advertisement
An extraordinary design in the larger oban yoko-e** format that offers an elaborate composition depicting a tray of stacked shunga books, a folded fan and several koban-sized shunga prints in the foreground. This may have been a self-advertisement by Kuniyoshi himself, promoting shunga as a source of sexual knowledge, to arouse desire and its ability to improve the sexual skills of the reader.
Bluebirds
Sitting in front of two giant cushions depicting detailed floral motifs, a couple (the woman is an oiran, a high-class courtesan) is looking at a shunga book for inspiration. They are still in the introductory phase and are both caressing each other's genitals. The screen in the background features two long-tailed bluebirds.
Click HERE and check out 6 exciting images with the sensual fantasies of lonesome masturbating beauties…!!!
*Koto is a Japanese stringed musical instrument. It is the national instrument of Japan. Usually they have 13 strings.
**oban yoko-e size is ca. 15″ x 10″ inches.