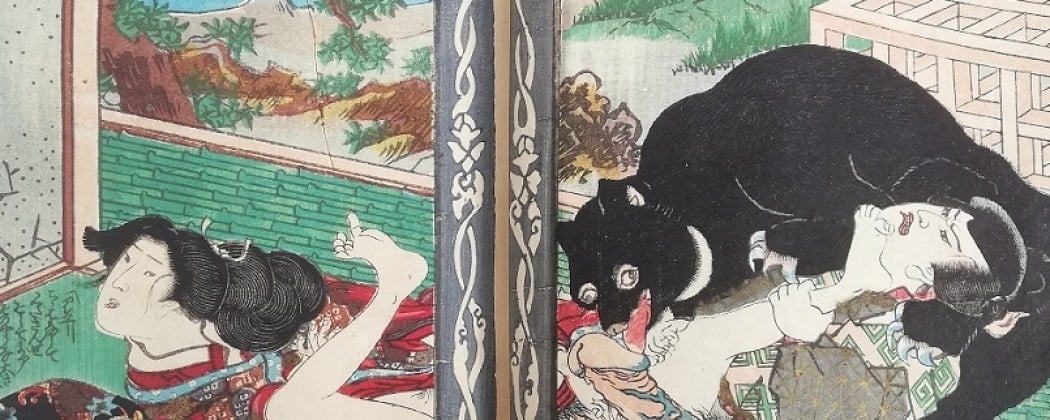 Ashikaga Yoshimitsu, the Aroused Black Dog, Musical Angels and Other Stories
Today we'll examine a book series called 'Shakka hatsuso (8 Forms of Buddha)' (c.1860) by Koikawa Shozan (1821-1907).  As far as I can tell, the text and illustrations in the books refer to The Tale of Genji and its notorious hero Ashikaga Yoshimitsu *.
Playboy
The first book follows his entry (as a rookie) and the development into the irresistible playboy he would later become. The illustrations in the subsequent volumes become more and more imaginative.
Cock-licking Dog
There are 9 double page and 7 single page color illustrations + a triptych and a quadriptych. The prints include the famous scene with a giant black dog performing oral sex (with detailed embossing to the black fur – Fig.23), an amazing fold-out design of an orgy (Fig.8, 9 and 10), a female deity and her elephant (Fig.22), triptych angels (Fig.18 and 19), a grim snowy graveyard encounter (Fig.24), samurai in the forest (Fig.5) and much more…!
The set also includes 13 double page B&W illustrations (only one depicted here – Fig.20)
Click HERE for more articles of the sensual art by Shozan or here for more shunga scenes featuring Ashikaga Yoshimitsu…!!
*This character is based on the real-life shogun Ashikaga Yoshimitsu (1358–1408), who was the 3rd shōgun of the Ashikaga shogunate.