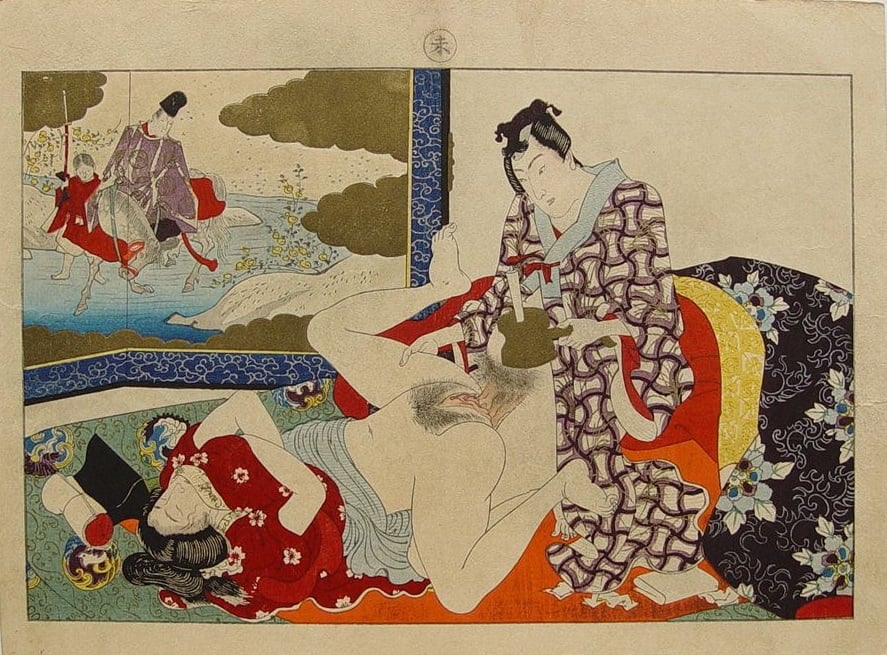 Migita Toshihide's Copy of Kunisada's Erotic Candlestick Design
In the previous article we explored the Kunisada series 'A True-life Devoted Genji'  (c.1851) which included a erotic design featuring Ashikaga Yoshimitsu making love holding a candlestick see (Fig.2.). Today we look at the ode to this design Migita Toshihide (1862-1925).
The Meiji artist Toshihide who was a pupil of Tsukioka Yoshitoshi (1839-1892) and got his speciffically Western-style of painting under Kunisawa Shinkuro . He is best known for his senso-e (war prints) and worked mainly as an illustrator for newspapers and magazines. Among his pupils were Ikeda Terukata and Ikeda Shoen.
Utamaro and Kunisada
Fig.1. is from a deluxe set designed by Toshihide with images inspired on excellent shunga from the great ancient masters such as Utamaro and Kunisada. The prints are in the chuban yoko-e format: 8″ x 11″ inches. The above piece features an explicit intimate scene of a couple. A folding screen is standing against the back wall. The decoration portrays a samurai on a horse and a helper. The man (Yoshimitsu) is holding a candle. The condition is great with only some minor soiling in the margin.
Goat
In the middle of the upper margin is a zodiacal sign meaning Hitsuji (Goat)! Printed on hand crafted paper (Look at the strong texture!). Use of urushi-e (black lacquer) on the dark parts of the picture and a lot of silver mica detail! Kimedashi ('blind print') on the collar of the woman's kimono and her light blue underdress and on the kimono of the man!
Click HERE for shunga designs from another famous Kunisada series…!!!