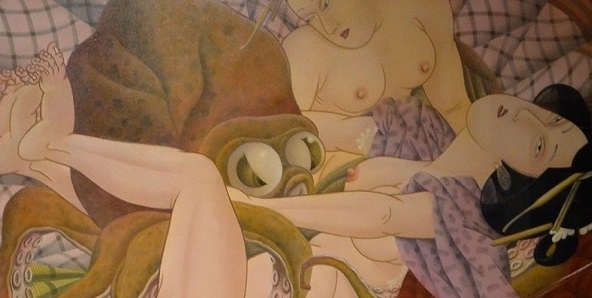 Fernando Bellver and His Captivating Shunga Homage
I stumbled upon some very nice art pieces (etches with ecoline coloring) inspired on ukiyo-e shunga. They are made by the Spanish artist Fernando Bellver (1954). This Spanish painter is an important representative of the figurative art in Spain. He comes from a family with a long tradition of sculptors and artisans, that goes all the way back to the 13th century.
Utamaro and Hokusai
I love his own interpretation of the shunga genre and how he adds this to the dynamics of his circular designs. He presents his protagonists set against rib-shaped fabrics with colorful motifs and patterns and omits explicit sexual intercourse. The experienced viewer immediately recognizes he mainly got his inspiration from the sensual erotica by Utamaro and Hokusai.
Lesbian Liaison
The plate, for instance, of the two beauties and the squid (Fig.8.) is a free visual translation of Hokusai's The Dream of the Fisherman's Wife and another design from the 'Kinoe no komatsu'-series (c.1814) that offers the spectator a lesbian liaison between two geisha. The piece with the two females performing cunnilingus on each other in an oval-shaped pose (Fig.4. and 5) is an interpretation of a design by Hokusai from the series Fukujuso (c.1822/23) in which a heterosexual couple are depicted in a similar pose.
Gay Samurai
Also startling is the gay encounter with both tattooed males who stick a samurai sword into each other's body (Fig.2. and 3). It is no coincidence that Bellver also designed movie posters and music album covers in the seventies.
The series of paintings and prints by Fernando Bellver below are from a series called 'Shunga'…
Click HERE for more amazing modern shunga art…!!!
What do you think about the art of Fernando Bellver? Leave your reaction in the comment box below….!!