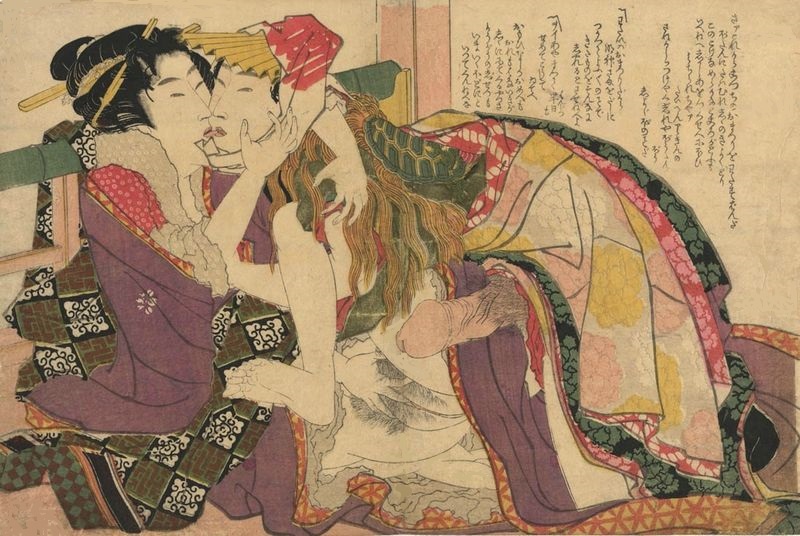 Lion Dance Performer Having a Passionate Encounter During the Festival
A passionate, sexual encounter within a tightly-filled frame. A geisha and her secret lover meet during the festival – he sporting a half-opened fan and head-covering, finery for performance of the Lion Dance.
Passionate Kiss
The tension of the situaton is well expressed by the girl's passionate kiss (reserved in Ancient Japan, for intimate contact only), and in the strategic placement of the man's hand.  The newly introduced ukiyo-e enthusiast may need some time to discern the protagonists' various accessories, but it is well worth the effort.
Hyperbolic
As is customary in shunga, the sexual organs are portrayed in hyperbolic size, an artistic device that is unequivocally a relic of ancient phallic worship, while effectively symbolizing the participants' highly aroused state.
Masterpiece
The ukiyo-e expert Richard Lane considers this the masterpiece of the 'Tsuhi no hinagata' -series and describes it as follows:
"Its  composition as impeccable, its lovers' powerful emotions at their peak – a fact most forcefully apparent even to the casual viewer. The scene represents, in fact, that true acme of erotic pleasure: when overpowering passions and expectations fill the entire bodies of the protagonists, making their subsequent "climax" more an afterthought than a man event."
Click HERE for another forceful plate from this important shunga series..!!
Source: 'The Complete Ukiyo-e Shunga: Hokusai and the Tsuhi no hinagata Shunga Album' (Vol.13) by Richard Lane