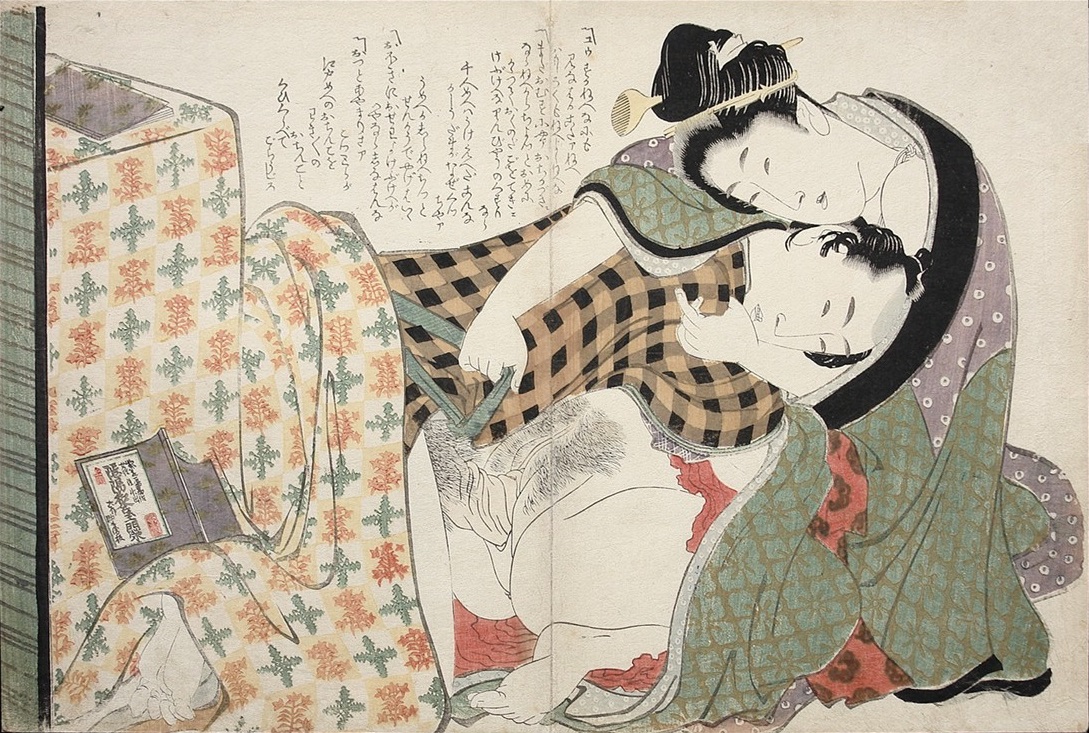 A Gentle Encounter Under a Comfortable Kotatsu Brazier
A characteristic Hokusai composition, with the lovers portrayed here in a sheath-like embrace, covered in the restraint patterns of their own kimonos. They are bolstered by the kotatsu* brazier at the left side.
Casual Sex
The scene is a surprisingly gentle one, of lovers who have, doubtless, amply sampled the exertions of strong passion, and now enjoy the more mundane, and less tiring, flavor of casual sex. An illustrated book is tossed aside to the lower left, and another volume with a corresponding cover rests on top of the kotatsu.
Obi Belt
I always love Hokusai's attention to detail; how the woman holds on to the obi belt of the man's kimono and how she gently squeezes his shoulder…masterful!
Yin and Yang
The couple were seemingly aroused by the contents of the book that bears the suggestive title, Inyo awase gyokumonei ('in' and 'yo' refer to the female and male energies, also known as 'yin' and 'yang' in Chinese).
Acclaimed
This tableau comes from Hokusai's acclaimed 'Tsuhi no hinagata (Models of Loving Couples)'-series* that was issued between 1812-1814. The album was his first full-size oban print album in erotica and consists of twelve prints and this is plate no.6 from the set.
Click HERE for more articles on Hokusai's 'Tsuhi no hinagata'-series…!!!
*A kotatsu is a traditional Japanese table heater
**Since the translation of many shunga book titles is difficult, Tsuhi no hinagata is known in various translations such as Pictures of Loving Couples, Patterns of Loving Couples, Interlocking Patterns, and Models of Loving Couples.
What is your favorite design from this series?