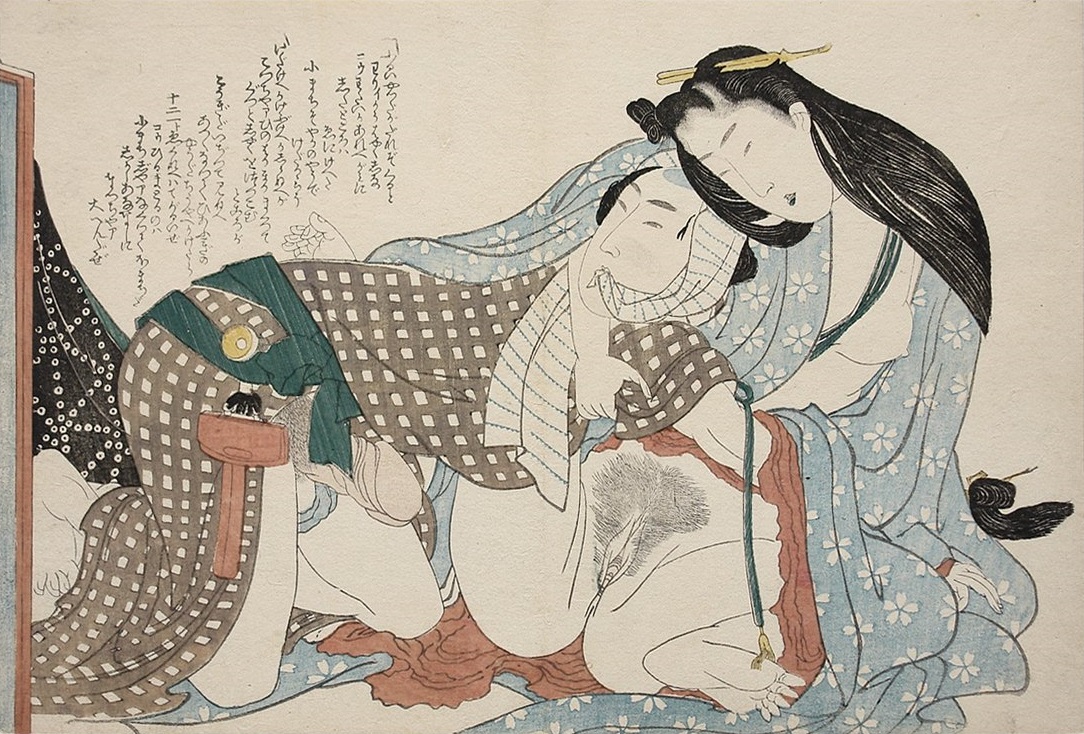 Erotic Masterpiece Depicting a Secretive Rendezvous by Katsushika Hokusai
Here we come to another of the acknowledged masterpieces of the 'Ehon tsuhi no hinagata (Picture-book Models of Loving Couples)'-series by Katsushika Hokusai (1760-1849). The secretive affair is a frequent theme in shunga. This is because of the element of suspense that serves to intensify the emotional impact of the situation.
Mistress
In this distinguished scene we witness a lover's furtive, hasty visit to his mistress. He peeks covertly to the left. She has just come from the bath, after washing her long hair.
White Flesh
The rolling waves of kimono-pattern, white flesh and raven hair emphasize the urgency of the moment. The larger size of the oban print allows more simplification of composition than is to be found in Hokusai's equally renowned shunga book illustrations of the same date.
Netsuke
Another highlighted detail is that of the netsuke at the man's sash. In this case an example of the simple kagamibuta type.
According to the late Dr. Richard Lane this is the masterpiece of the series!
The Original Hokusai piece is still available in our gallery. You can check out the price and more exciting info on the following page!