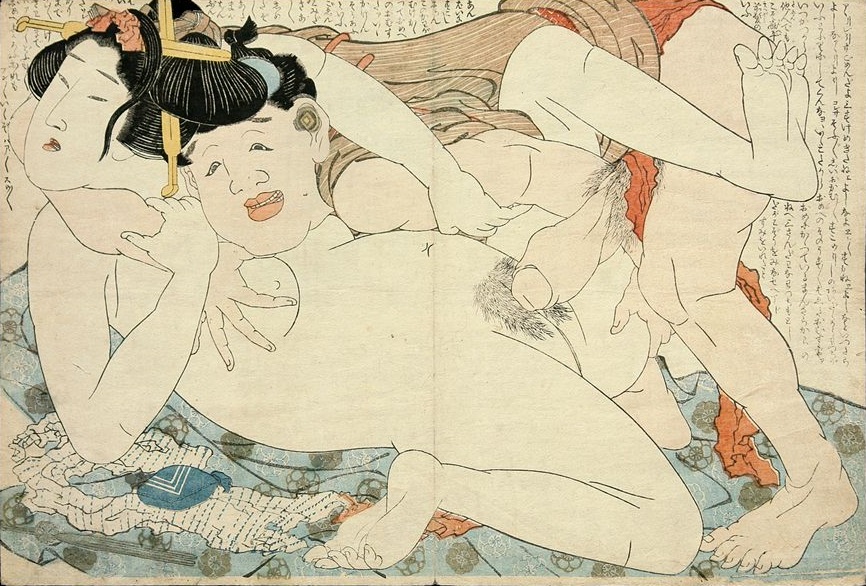 Hokusai Prints From the Monumental Fukujuso Series
Hokusai produced around nineteen major shunga books and sets of erotic prints, that were issued in the period between 1803 and around 1823 when he was in his mid-to late forties and his early sixties.
Powerful
His shunga output also included album of prints in the larger oban-format and bound concertina-style (undoubtedly a more sophisticated format than the simpler ehon books). This includes a well-known album Models of Loving Couples (Ehon tsuhi no hinagata) from 1814 that contains figures of couples in love. The compositions in this album are 0ften powerful and emphasized by vivid yet refined colors.
Monumental
After 1815 Hokusai focused increasingly on imposing figures and monumental compositions, filling each sheet all the way to its frame, and sometimes beyond it. His most important work of this period, of which several editions exist, is known from the motif on the cover as Plovers Above the waves (Namichidori).
Baby Boy
The first version is probably the one published under the title The Adonis Plant, Dew on Love's Grosses (Fukujuso, Ehon sasemo ga tsuyu) – (Fig.2.). Couples represented in this set include a mother who holds her baby boy after having enjoyed sexual intercourse, two lovers meeting in a private outdoor place (or teahouse), a clandestine encounter between a wife and her lover, passionate lovemaking scenes between wife and husband, an attempted rape in a corner of a public bath by an attendant on top of a young woman, a sex scene between a widow and her young employee, a secret rendezvous of a wife and her lover, a fisherman and a female ama diver, and a lovemaking scene between a man and his pregnant wife.
Interesting Flavour
In the best-known and most sumptuous of the versions, Plovers Above the Waves (Fig.1.), the woodblocks have been re-carved and the text has been removed and replaced it with a background of powdered mica. It has a more pictorial and interesting flavour than the first version, and is one of Hokusai's most significant books, thanks to the positioning of the figures, the elegant drawing and clean lines.
The Meiji artist Ikeda Terukata (1883-1921) also recarved some of the Hokusai prints from The Adonis Plant…
Click HERE for many exciting articles on other sensual Hokusai prints…!!!
Source: 'Poem of the Pillow and other Stories by Utamaro, Hokusai,…etc' by Gian Carlo Calza