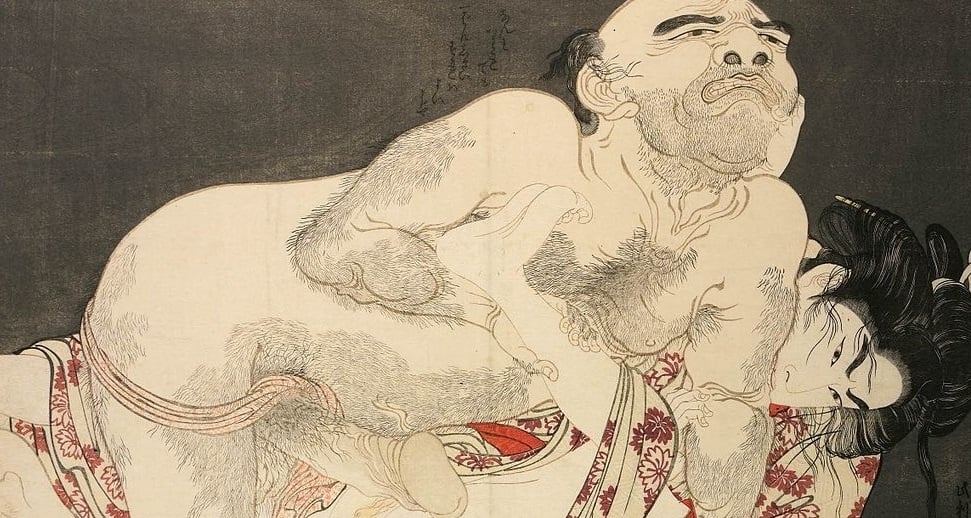 Violent Rape Executed By Hairy Old Man
The most shocking design from both the series Utamakura and Fumi no kiyogaki by Utamaro and Eiri are the ones depicted below. Let's take a closer at these extraordinary examples of rape art…
Violence
A young woman tries to fight off a hairy older male who is raping her. She defends herself by biting in his arm. This kind of violence is rare in Edo-period shunga. The culprits are mostly portrayed as ugly.
This is the only print in the album which contains text (in this case dialogue). In the inscription in the lower right the woman says:
"Let me go of me Rihei, you old fool!"
In the inscription above him the man replies: "Save your words and just keep still."
Raping Lackey
Ukiyo-e expert Dr. Richard Lane: "One might think that Eiri has reached his peak with the preceding plate (click here), and indeed he has, in both aesthetic and erotic terms. But the album is not yet finished, and the next scene lends a needed variety to the series, a slightly comic tableau featuring a middle-aged lackey attempting to forcibly seduce a servant girl of the same domicile.
This tableau forms a notable contrast with the Utamaro classic that was its inspiration; and within its obvious limitations, one can clearly glimpse once again, the eminently human qualities of the artist Eiri."
Click HERE for more fascinating designs from these series!
Click HERE for more articles including rape art designs!
Sources: 'The Complete Ukiyo-e Shunga: Eiri: Love Letters, Love Consummated (Fumi no kiyogaki) (Vol. 9)  by Dr. Richard Lane
Wikipedia