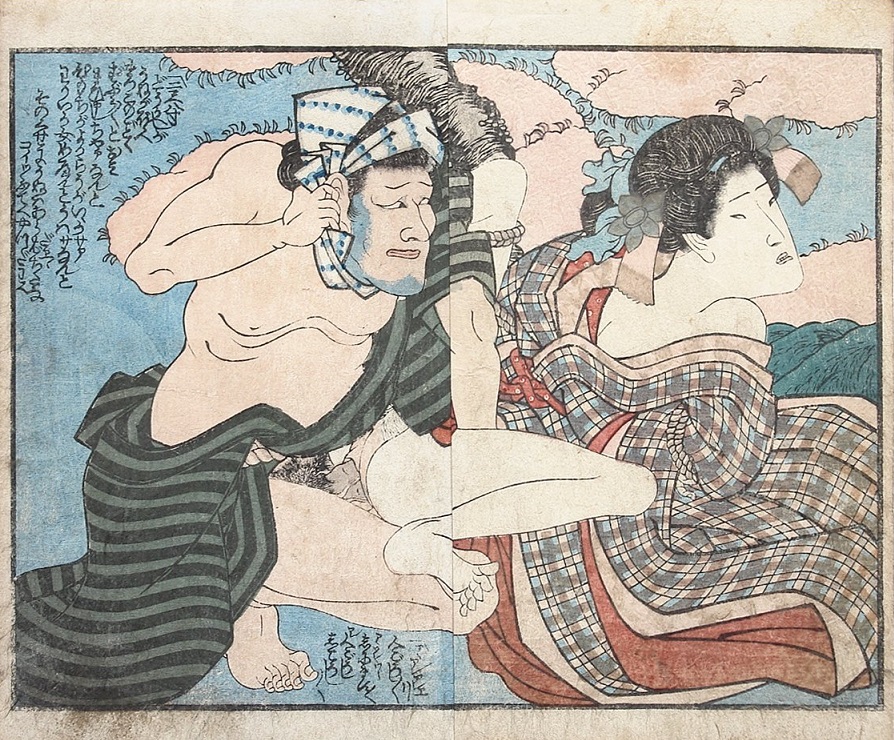 Revealing Rapists, Orgies & Exhausted Couples Entwined in the Mosquito Net
We have expanded our collection with the following new shunga pieces…
'Orgy with 5 couples' (c.1822) from the series 'Makura bunko (Pillow Library)' by Keisai Eisen (1790-1848)
Five Intimate Couples
The Pillow Library by Keisai Eisen is famous for its anatomical drawings and close-up designs of genitalia during the various stages of love-making. The above illustration is one of the best double-page designs in this series depicting five intimate couples in the different phases of love-making.
Unrelenting
This scene recalls Kunisada's horrifying masterpiece that might have inspired Yoshinobu. An unrelenting image of a woman who has been tied to a tree and while being raped by a ruffian. To make it even more uncomfortable he is identifying himself by taking off his headscarf. Unfortunately I don't have the translation of the Japanese text because it makes you curious; She turns her head away in horror. Does she know him or is she is just afraid to remember his face?
Cool Down
After some exhausting love-making a couple tries to cool down. Utamaro shows his mastery in the facial expressions and his sense of humor in the fleeing mouse in the right corner.
Entwined
During a hot summer afternoon a wildly passionate young couple are making love. In their enthusiasm they have become entwined in the mosquito-netting. Stylistically, this design tends towards the Eishi school and could very well be an early design by the student Chokyosai Eiri.
Click HERE for the prices of the above and other pieces…!!!