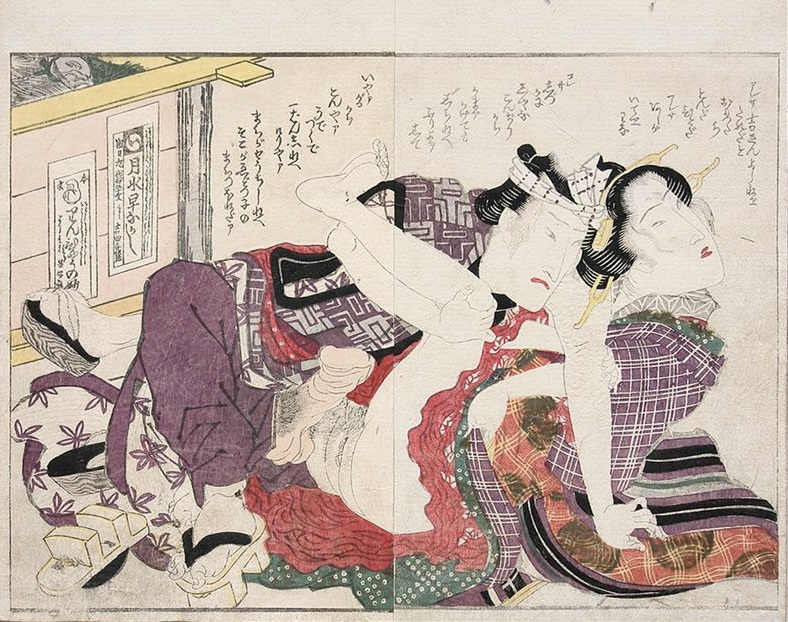 The Extraordinary Japanese Shunga Art of Keisai Eisen
The Japanese shunga art by the jack-of-all-trades* Keisai Eisen (1790-1848) is always sensual and instantly recognizable for the trained eye. The rendering of the hair-dues, the use of his beloved color purple, and elaborate placement of textiles are just a few of the characteristic features of this great ukiyo-e master.
Japanese Shunga Art
His most well-known works are the bijin-ga (pictures of female beauty) in which he depicted his subjects in a more earthly manner in comparison with his predecessors. He emphasized less the beauty and elegance of the female but instead focused more on their daily reality. These elements can all be found in his erotic work since the female was a central figure within Japanese shunga art.
The following shunga series is from the 1820s…
An ecstatic geisha is penetrated while sitting on the lap of a client. In the background lays an opened shunga book they used for inspiration earlier.
A dynamic scene taking place out on the streets with a tattooed ruffian having intercourse with a street harlot.  The embossing-printing technique (see close-up picture below) on the left arm is wonderfully executed.
A voracious client eagerly advances his favorite courtesan.
A magnificent okubi-e (large head print) portrayal of a daydreaming geisha.  Eisen excelled at this genre and among these his best works can be found. They are considered to be the masterpieces of the "decadent" era (1818-1830).
The following two designs are from around 1825…
A geisha is leaning with her upper body on a geisha pillow while she is penetrated from behind by a servant, who is her secret lover.
A young couple, a geisha and her lover, have a quick, passionate encounter. The mountain stream featured on the screen in the background is a reference to female sexuality.
Click HERE for more exciting Japanese shunga art by Eisen…!!!
The above pieces are for sale and the prices can be found HERE…!!!
*Besides a woodblock designer producing for all ukiyo-e genres, Keisai Eisen was an author, poet, carver, printer and a brothel owner.