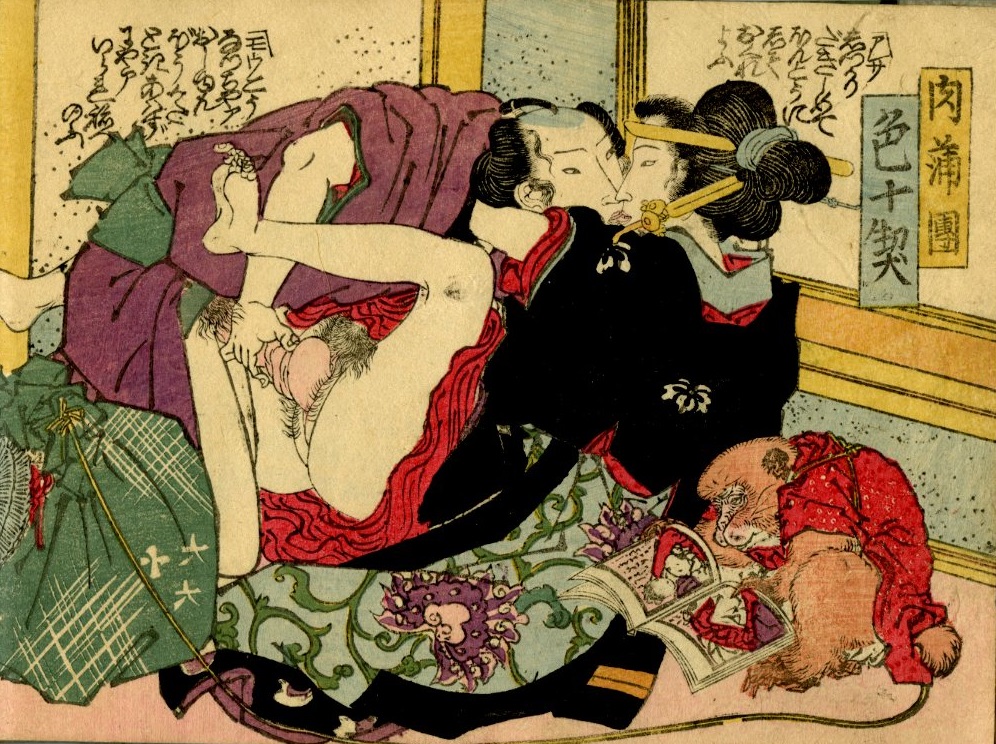 The Colorful Erotic World of Ikeda Eisen
The following ten designs by Ikeda Eisen (1790-1848) are from a series called 'Mitsukumi sakazuki' (c.1820s)…
Unknown Territory
A secret appointment between an experienced geisha and a young lover near the shore. She is impatient and moves her right hand into his kimono. He is reticent because love is still unknown territory to him.
Pillow
A geisha prepares for intercourse by moving the takamakura (pillow), so that she can lay her neck comfortably, and directing the client's penis towards her private parts.
Grim
A love-making couple in the straightforward pose. His grim look betrays that he is really trying to do his best.
Jolly
A female has rolled up her sleeves to submit herself to a moxa* treatment executed by the jolly man sitting next to her.
Snowy Bridge
In a cabin near a riverside, a man is entertaining himself with a geisha. Behind the, partly visible a maiko (geisha trainee) is watching them. In the background one can see a snowy village and passersby on a bridge.
Exploratory
Like the previous image, we can see a couple with a village and a bridge in the background. In this case, it's springtime and the couple is still in the exploratory phase of their intimacy.
Monkey
A hilarious design with a monkey trainer who has an intimate rendezvous with a mistress while his "livelihood" (who is connected with a rope to his kimono) is examining a shungabook.
Sweaty Lovebirds
During a hot summer day a pair of sweaty lovebirds sitting on a porch are wringing out their soaked kimono's.
Mask
A high-class courtesan (oiran) has a secret rendezvous between the stacks of rice straw with her masked lover near a stream. During their passionate embrace his mask has been moved up, making his face completely visible.
Significant Other
A man is passionately kissing his significant other while stroking her private parts in the meantime.
Click HERE for many other exciting articles on the erotic art of this notorious artist…!!!
*moxa is a dried mugwort, that is applied while burning to a person's body. It is a kind of medical treatment. You can find more info on moxa in the following article.
Who is your favorite ukiyo-e shunga artist?