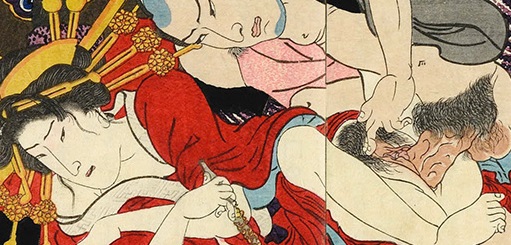 What Is This Foul-Mouthed Courtesan Bitchin' About?
The Kunisada print below is from a shunga book series that was banned by the government. It is called 'Shunshoku hatsune no ume (The Erotic Adventures of Six Women)' and was published in 1842. The series is an erotic parody of the highly acclaimed book by Tamenaga Shunsui (1790-1848) entitled 'Shunshoku umegoyomi (Spring Love A Plum Blossom's Almanac)'
Palpable
The tension in this design is nearly palpable through the aggressive facial expressions of the protagonists. This is also emphasized by one of the long hair-pins that is dangerously close to the eye of the man.
Well let's examine their backgrounds starting with their conversation…
Translation of the Monologue
Displeased bitch: "Insert ur rotten sausage into my fuckin' hole, if you want. But…Do not put it like a thumb in my asshole accidentally."*
Scurrilous
The scurrilous woman is a courtesan named Konoito. She is from the Karakotoya House in the licensed quarter in Kamakura. The latter was a code name for Yoshiwara in Edo. The man is Tobei from Chiba, who was a regular customer of the houses in the Yoshiwara district.
Shunga Version
Konoito and Tobei were two of the characters that appeared in the original romance and were familiar to its readers. All that had to be done to create the shunga version was to transform the story and illustrations into erotic prints.
Tamenaga Shunsui
The original romantic version of Tamenaga Shunsui was a great success which led to many sequels. It would have been natural for the shunga version to have sequels as well but unfortunately, due to the prosecution launched against this first shunga volume, these sequels never appeared.
The illustrations are signed 'Ukiyo Matabei', an artist who an Edo readership would have immediately recognized as being Kunisada.
Click HERE for a fascinating article of an intriguing shunga scene by Kunisada featuring mutual masturbation!
*Translation by Airi Nakano