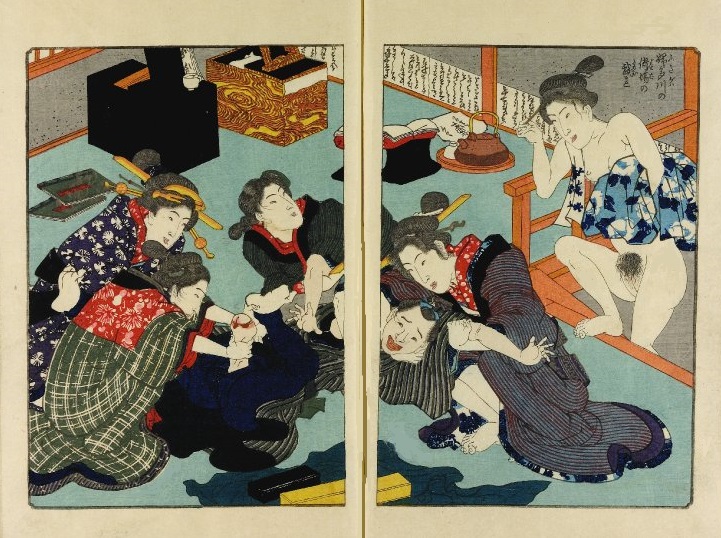 The Sensual Adventures of Six Women in the Futagawa Quarter
The lovely shunga scene below is from the Kunisada series 'Shunshoku hatusne no ume (The Erotic Adventures of Six Women)'. It was based on the renowned book 'Shunshoku umegoyomi (Spring Love: A Plum Blossom's Almanac)' that tells the story about the romance of three women who compete for the affection of the adopted son of a brothel owner.
True Heart
The book was an example of the ninjobon genre. Books about human feeling. that accentuated the idea of the 'true heart' or 'ninjo'. The shunga parody by Kunisada was banned and therefore the remaining copies are very scarce nowadays.
Futagawa Quarter
The second floor of a Futagawa yoseba. The name Futagawa is a hint to Fukagawa, an unlicensed pleasure quarter, and here it has been written with homophonic characters to mean 'many women'.
A yoseba was the name given to establishments in the Fukagawa, where professional entertainers such as geisha, taikomochi (professional jesters) and their agents gathered.
Helpless Errand Boy
Obviously just out of the bath, a geisha climbs the stairs on the right to find that her co-workers have pinned down a helpless errand boy. His trousers have been pried open, and the women are inspecting his penis. That he is still a young boy is clear from his unshaven forelocks.
Click HERE for another exciting article on this series!