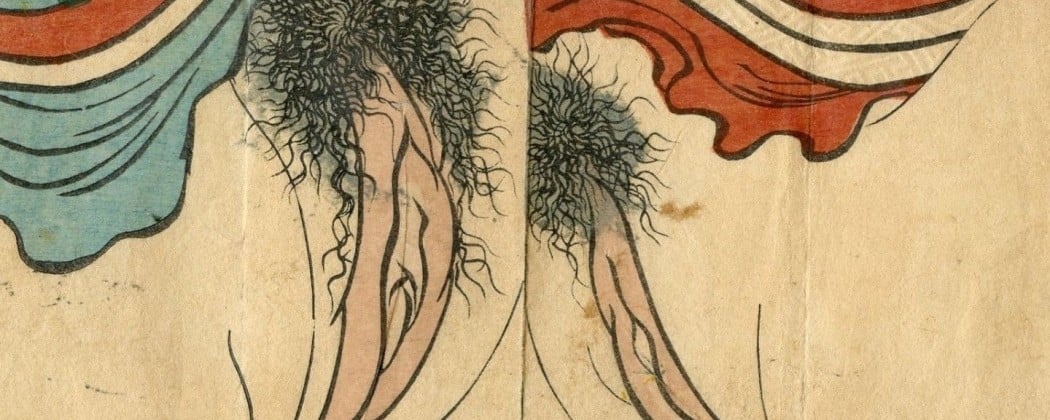 Mesmerizing Vagina Close-up Designs as Portrayed in Japanese Shunga
Designs featuring vagina close-ups in shunga are among the collector's favorite subjects. Normally these kind of images were added in the beginning and/or the end of shunga books (ehon) to emphasize its contents. In some rare cases the theme of the vagina close up was applied to shikake-e (toy print) in a most original way.
Provoking
Shikake-e were trendy during the first half of the nineteenth century. Many were published in the small koban-sized format but they also can be found in ehon (picture book). At first sight these kind of images show a virtuous scene that reveals a provoking, often explicit picture, when the additional cover or flap is lifted or folded out.
Toy prints, which were costly to produce, were almost entirely made for shunga. This is proof that shunga were treasured items that were high in demand.
Sliding Doors Bedroom
The following piece is a fold-out "envelope" that shows a close up portrait of a novice courtesan (probably an older kamuro) holding a lantern on the front side while the backside depicts the closed sliding doors to a bedroom. The triangular lower panel features a heron near a stream. When folded-out the consecutive images reveal a little more each time, first a geisha pillow (takamakura), then a piece of cloth featuring a sakura* flower, an intimate couple, and finally different kinds of vagina close-ups.
Various Types of Vaginas
A rare set consisting of 6 various seperate pieces featuring a close-up of the female lower body with five different types of genitalia that can be added to the missing part on the panel featuring the lower body.
The text on the backside of the 'private part' -pieces reveals some kind of a rating system for each of the individual pieces on the basis of the specific (visible) details and goes as follows (see pictures of the backside from left to right!):
1.The Best
2. Great
3. Virgin
4. Good
5. Slut
This set was published around 1850 by an unknown member of the Utagawa school.
Shy Lady
A lovely and highly detailed piece consisting of a paper phallus that can be inserted to the private parts of the shy young courtesan depicted on the panel. This set was published in the 1840s and might be designed by Koikawa Shozan (1831-1907)
Non-trick shunga with vagina close-ups:
Click HERE for more content on shikake-e pieces in shunga…!!!
Click HERE to explore our shikake-e for sale…!!!
*The Sakura is the Japanese national flower. It means 'accomplishment' and 'beauty of heart'. The flower is connected to the festivals in Japan held during the spring season and the spring is strongly linked to shunga.
You can download our excellent FREE eBook on Hokusai's rarest shunga series on the following PAGE…!!