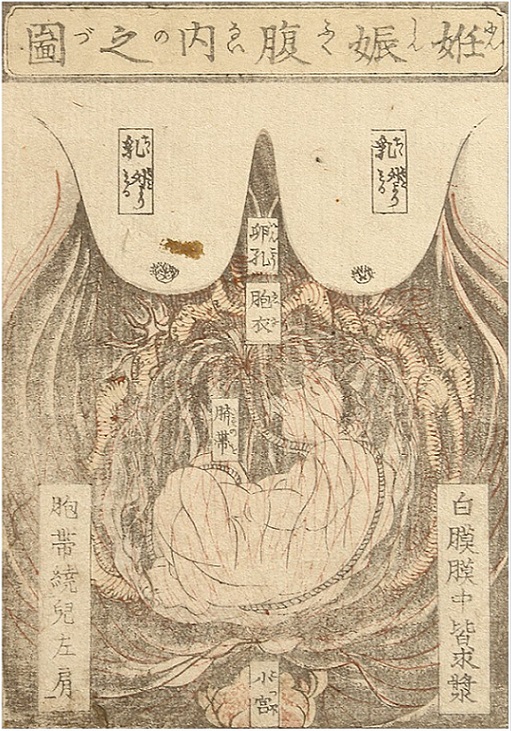 How Does the Interior of a Vagina Look Like?
The two illustrations below are from Keisai Eisen's encyclopaedia of sex called Makura bunko (The Pillow Library) that was published in three parts, of two volumes each, in consecutively 1822, 1823 and 1824.
Long-standing Interest
These two anatomical drawings reflect the long-standing interest among Japanese medical practitioners in Western anatomy, which was accessible to them through imported medical texts.
Revolutionary
The image on the right (see also Fig.2.) displays the view of the interior of the vagina within the abdomen is labeled as 'Copied from Kaitai shinsho'. This is an allusion to the revolutionary woodblock-printed anatomy issued in 1774 that was based on Ontleedkundige Tafelen (1734), a Dutch translation in turn of the German Anatomische Tabellen (1722) by Johann Adam Kulmus.
Parted Thighs
Needless to say, the two fingers as depicted here stimulating the inside of the vagina are not in the original. In a preceding page (see Fig. 3) the reader can see (on the same scale) the female's vulva between the parted thighs and the hand of the man who is inserting his fingers into her vagina.
Pregnancy
The left image (see also Fig.4.) is identified 'Interior of the abdomen during pregnancy'. A character on the following page describes this image hints at Sanron yoku, a book on midwifery that was first issued in 1775.
Foetus
It explains that no Dutch anatomy book illustrates the position of the foetus in the uterus: this information is only found in English medical texts and is presented clearly here in pictorial form.
Click HERE for sensual content on the erotic art by Keisai Eisen!
Fig.4 is still available for sale in our gallery. Click HERE to contact us about info and price!
Source: 'Shunga, Sex and Pleasure in Japanese Art' published by the British Museum