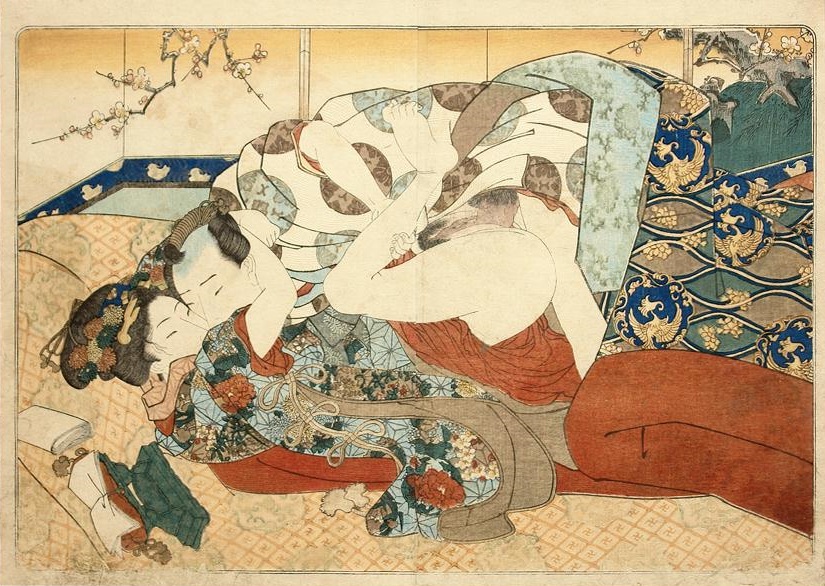 Kunisada Print Depicting A Sensual Wealthy Couple
A superb print design from Kunisada's renowned series 'Genji of the East, Charm of Flowers and Birds (Kachõ yojõ Azuma Genji)'. The series is among his best erotic work and was probably commissioned by an affluent consigner.
Experienced Collector
The applied printing techniques to the designs are unmatched and of the highest quality. They include multiple silver and gold pigment details to the various motifs of the fabrics alternately with embossing. Either if you are an experienced collector or a starting one, discerning these kind of techniques are always a pleasant and exciting experience.
Muscle Tension
In "Genji of the East", Kunisada shows us that these are brief and very passionate love scenes, as emphasized by the protagonist's facial expressions and the muscle tension in their bodies.
Elaborate Detail
In the above plate we witness an intimate aristocratic couple in an ecstatic embrace. The man wears a rope through his hair which indicates his high-class status. Striking is the elaborate detail to the facial expressions. The eyes of the protagonists seem closed but on closer examination (see Fig.2.) we can see some of their eye-balls are still visible.
Striking Hairstyles
There's also a lot of attention to the hairstyles in this print. Hairstyles in ancient Japan were of great importance. They were an indication of a person's place in society and also their marital status. Japanese ancient hairstyles could command how others should behave around you and the amount of respect you could demand. Nowadays, Japanese hairstyles are seen as a fashion ornament but in ancient Japan, hairstyles were elemental to the culture and everyday life.
Click HERE for another striking Kunisada print from another Genji series…!!!