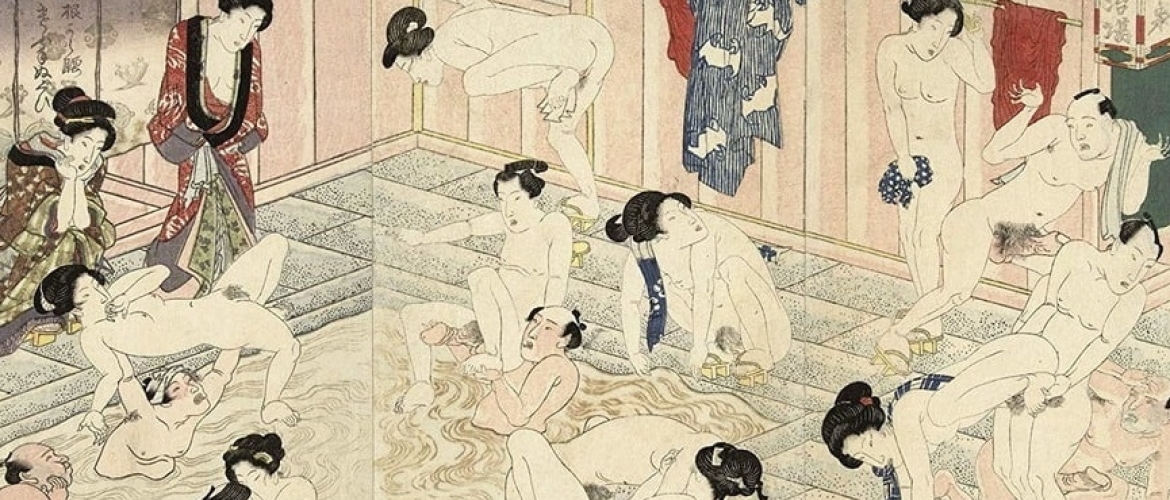 A Rare Egoyomi Triptych Depicting Tantalizing Bathhouse Games
This koban-size egoyomi (calendar print) is quite rare because it is a triptych (Fig.1). It is printed in the surimono style and shows the interior of a bathhouse. This was a commissioned work produced by the prolific artist Utagawa Kunisada (1786-1865). The prints are storaged in a beautifully printed wrapper (Fig.2).
Year of the Boar
The door illustrated on the wrapper is inscribed with characters reading 'Spring, Year of the Boar/ hot spring/ to offer as a present.'
Display of Nudity
The text to the left panel tells us that this hot springs is in Hakone and that the game played by the women is called 'passing the hand towel', an euphemism for the passing around' of prostitutes. In the 1850s, non-shunga oban-size bath triptychs were extremely popular. They all had a similar display of nudity.
Two Clad Geisha
Concealed in the shop curtain (noren) behind the two clad geisha on the left are the numbers of the 'long' (thirty-day) months, which have been printed with a brass pigment. These 'long' months do not correspond to any specific year. The print is signed with another variant of the standard pseudonym used by Kunisada, here read as 'Fukiyo Matabei.'
Click HERE for more sensual bathhouse scenes as displayed in shunga..!!
You can obtain our unique Shunga Art Price Indicator with prices of over 600 shunga pieces (including bathhouse scenes) now only for a limited time with a 50% discount..!
Source: 'Japanese Erotic Fantasies: Sexual Imagery of the Edo Period' by C. Uhlenbeck a.o.
What is you favorite theme within shunga? Leave your reaction in the comment box below…!!