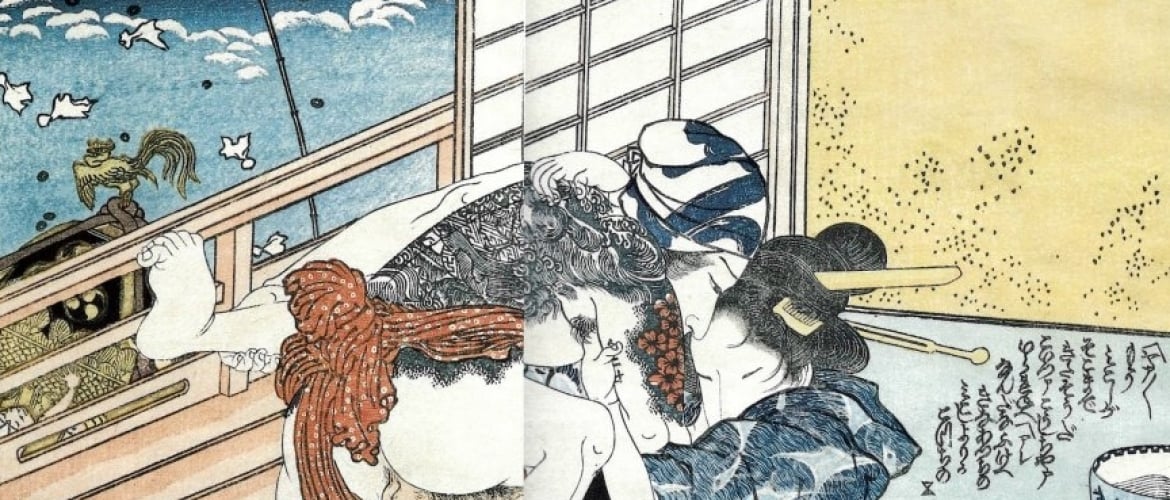 Colorful Shunga Designs with Tattooed Ruffians and Brigands
Depictions with tattoos in ukiyo-e shunga appear since the mid-eighteenth century but not in earlier hand-painted works. The men wearing tattoos represented the underworld of criminal gangs (yakuza) and highway brigands.
Bad Nature
Every now and then, men with tattoos of dragons, gods or symbols of their bad nature (such as skeletons or dice) are portrayed having peaceful intercourse with their lovers but more often they are more often shown committing violent rape. Sometimes these tattooed villains brutalize the woman's partner or tie him up and force him to watch.
Yakuza
Occasionally men appear tattooed with the image of a woman or name. Most are clearly in love, spying on the woman while she is with someone else. Perhaps the message these shunga were trying to convey was a moral one for society: if you join the Yakuza, not only will you fail to get the woman you love, you might even have to endure seeing her with another man.
Suikoden Heroes
Parodies of this subject are also found, such as a woman having intercourse with her lover while holding up a mask of Hannya, a female demon considered to be a guardian of women, to frighten a tattooed man. When Kuniyoshi introduced the heavily tattooed Suikoden Heroes in 1827 he not only caused a tattoo hype in Japan, but all over the world and to this day.
Classic design portraying a distracted love-making couple. Kuniyoshi paid elaborate attention to the details of the large back tattoo.
Stabbed to Death
The heavily-tattooed fireman Sashichi is having intercourse with his lover, the geisha Koito. At the end of this tragic love story he will stab her to death. In the heart-shaped cartouche we can see a sedan chair, a lantern and the knife that marks the end of their affair.
This video features more striking shunga tattoo designs:
Contemporary tattoo artists are still using the ancient shunga designs as inspiration for their artwork:
Click HERE for striking shunga art by Kuniyoshi that is among the tattoo artists' favorites…!!!
Some of the above pieces are available for sale in our gallery and the prices can be found by clicking on the concerning picture…!!!