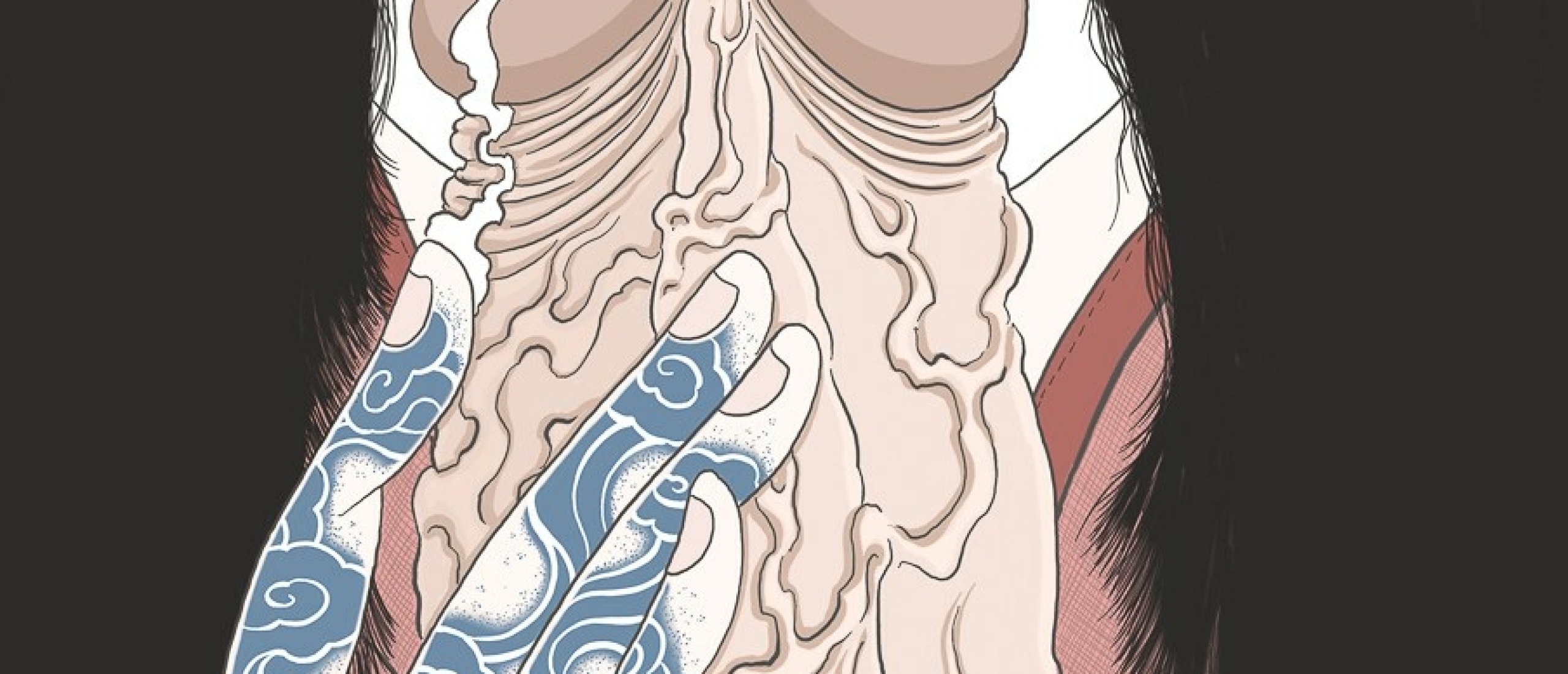 The Sensual World of Senju Shunga (P1)
During my endless search for interesting new erotic art (often Pinterest), I came across these beautiful pieces by the artist who calls himself Senju (real name Matti Sandberg). What is so striking about his art is that despite its explicit imagery a strong sense of poetic sensuality prevails.
Senju Shunga
His work is characterized by large close-ups zooming in on its subjects recalling the work of ancient ukiyo-e shunga artists like Koryusai and Utamaro. Senju includes many of the ancient shunga elements such as close-ups, big genitals, fox-fires (kitsune), kabuki actors and objects like harigata's (dildo's),  mosquito-netting, mirrors, water wells, folding screens…etc. and subsequently translates it into his own aesthetic language.
Henna Tattooing
Not surprisingly (originally Senju is a tattoo artist) a recurring feature in his paintings are the lavishly tattooed bodies and body parts of the figures set in strong vivid colors. Although the Japanese art and culture dominates his work there are also some Indian influences such as the henna tattooing* in the first image.
The additional descriptions included below are my interpretations and comments and may not be the vision of the artist himself…
Ice Cream
The image completely focuses on the oral activity of this sensual woman. Her hands with the henna tattoos tenderly touch the giant gold-lacquered phallus while ecstatically consuming it (like an ice cream). The eyes are not visible so that the attention is concentrated only on the sensuality of the physical act. There is also a reference to the art of bondage (shibari art) with the red rope neatly and snugly wrapped around the penis. Senju also made an alternative version (see below) with deviating details such as blue tattoos.
Mirror
The beautiful slightly corpulent Goddess of Dawn admires her private parts in a luxuriously ornamented mirror. She is wearing an Indian belly chain.
Rats Ass
A bald-headed Japanese beauty (probably a young nun) is orally penetrated by a lotus bud. Her hands leaning on the leaves give the impression that she is pressing on some kind of complicated sex toy. Her look is that of someone who doesn't give a rats ass of the world around her. A true rebel.
Bloody Embrace
In a darkened bedroom a female spirit (as indicated by her blue eyes and pale white skin) holds a submissive tattooed male in a bloody embrace. He is completely under her spell while her long hair caresses all of his body parts. A striking supernatural portrayal where the artist remains very faithful to the old Japanese masters.
Tengu Mask
A giant mirror features the reflection in the mirror of a heavily-tattooed woman sporting a red Tengu mask around her waist. The mask serves as an improvised dildo with which she anally penetrates her male lover.
Egg-Shaped
This painting that Senju recently finished for his new book 'Kagami – The Erotic Art of Senju' displays a wonderful ode to Hokusai's "Egg-shaped" couple** from his masterpiece The Adonis Plant (Fukujuso), published late 1810s. In Senju's version the couple is outside and the male protagonist performing cunnilingus is now a young bald-headed Buddhist monk while it's snowing white and pink petals. The book will be released early February 2018. It features 59 erotic paintings and explanatory texts and the first 200 to order will receive some interesting extras!
In the follow-up article we'll examine more exciting Senju shunga. Click HERE for part 2 !
Senju displays and explains his art on the following blogs Senju Shunga (his paintings and prints) and Horimatsu (his Japanese tattooing)!
*You can find a lot of henna designs on piercingmodels.com
**