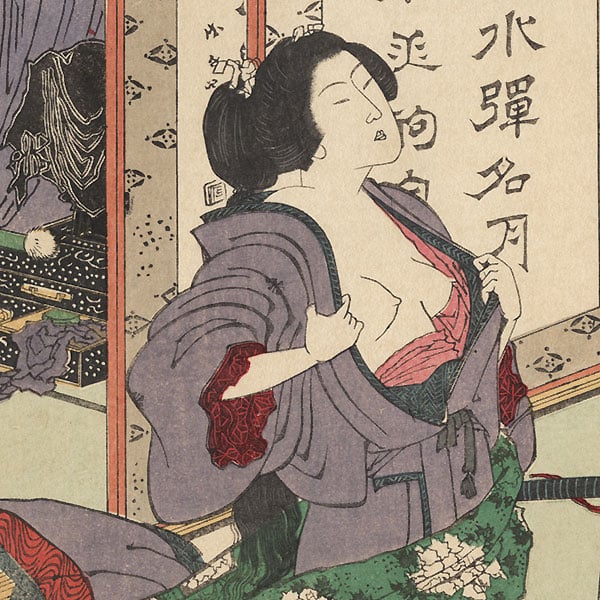 The Sensuality of Captive Women in Dire Situations
The prints below embody a limited, but favorite subgroup of Japanese erotica that portrayed defenseless, enslaved, or captive women. They are coveted and sought by specific collectors because for this specific area of interest there aren't many subjects. A fascinating representation of Edo era sexuality.
Tip Of His Sword
Violent scene with a samurai assaulting a woman, holding the tip of his sword against her cheek while grabbing her kimono. The beauty at left bares her chest, offering herself as a sacrifice in place of her companion. The tension is increased by the comb and hairpins which are scattered on the floor. A makeup chest sits behind the sliding panel at left. Not directly a shunga design but this musha-e (warrior print) surely offers a similar sensuality.
Tormentor
A striking scene with a peasant girl captured by a young male. She has just been stripped of all her clothes including her hair ornaments and only wears her leggings. Her tormentor is holding on to her arm and ponytail. We can only guess at his nefarious plans…
Red Lips
Another compelling image in this specific category from an earlier period that continues to fascinate me is from Toyokuni I's groundbreaking Call of Geese Meeting at Night (c.1822). It shows a bound woman strapped to a pole left behind by her kidnapper(s). Toyokuni's printer added a subtle effect with the red lips in a design that is otherwise dominated by black, white and gray colors…
Click HERE for the violent and bloody art of the Meiji master Tsukioka Yoshitoshi…!!!
For more Japanese art depicting damsels in distress click HERE…!!
Do you know other examples in art that treat the same subject? Let us know your thoughts in the comment box below!