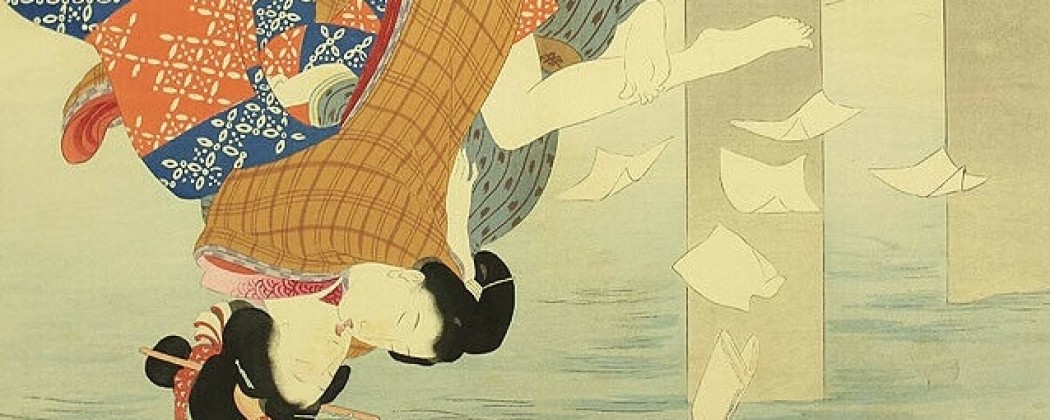 Takeuchi Keishu: Never-Before-Seen Images of His Rare Erotic Masterpiece
Before we'll examine one of the best shunga works produced at the end of the nineteenth century, let's take a closer look at the designer of this late erotic masterpiece, Takeuchi Keishu (1861-1942). Who was he?
Yoshitoshi
Keishū was born in Edo (nowadays Tokyo) in 1861. The second son of a feudal underling of the Kishū daimyo. He had no formal art training, but one day boldly walked into the studio of the great Tsukioka Yoshitoshi (1839-1892). The latter was impressed and kept him as a pupil. Keishū specialized in kuchi-e*, and worked as an illustrator within that genre in the 1890s.
Meager Living
To keep himself alive, he also worked as a porcelain painter before he started to design woodblock prints. Although Kuchi-e were popular and produced on a large scale towards the end of the 19th century, it offered a meager living. When his son expressed his ambitions to become a painter too, Keishū replied, "If you are able to live on air and water, you may become an artist."
War Triptychs
Later in Keishū's career, partly because he was a member of a literary coterie called Kenyūsha (Friends of the Inkstone), in went better and he always had enough work. He also produced some woodblock triptych designs in the senso-e (war) genre depicting the Russo-Japanese war (1904-05) but these are rarely found.
Collecting Dolls
In his later years he devoted himself to making and collecting dolls. In 1937 he was honored by the mother of Emperor Shōwa who requested that he paint a picture of court dolls for her.
Pledge of Yakumo
Takeuchi Keishū's earlier mentioned shunga masterpiece is entitled 'Leaves of Cherry Blossom (Hazakura)' (c.1897). It is the third and last in a series of three deluxe albums issued by the publishing house Hakubunkan. They were produced in response to the success of Tomioka Eisen's Pledge of Yakumo (Fig.3.) issued in 1896 by the rival publishing house Shun'yōdō.
Fluid Dripping
Ohashi Otawa, the head of Hakubunkan commissioned Keishū to produce an album of equal quality. In format and design it is very similar to Pledge of Yakumo (Fig.3.) The printing effects are always of the highest quality. Figure 4 exhibits elegantly gradated shading (bokashi) on the woman's sleeve, elaborate silver highlights, burnishing on the black of both protagonist's hair producing a sheen, gauffrage on the collars and sash, and shell-white (gofun) applied to indicate the fluid dripping from the woman's private parts.
Cunnilingus
It includes some discerning images on traditional themes including two threesomes, a great double-love suicide scene, a young skillful monk performing cunnilingus and a lovely take on the peeking masturbating girl. All designs, except for the first two, are focused only on the involved protagonists. No other details are portrayed.
But enough talk, get ready for some refined sensuality…
Click HERE and compare this set with another masterpiece by a famous contemporary of Takeuchi Keishu….!!!
*Kuchi-e are frontispieces of books, especially woodblock printed frontispieces for Japanese romance novels and literary magazines published from the 1890s to the 1910s.
Who is your favorite Meiji artist?