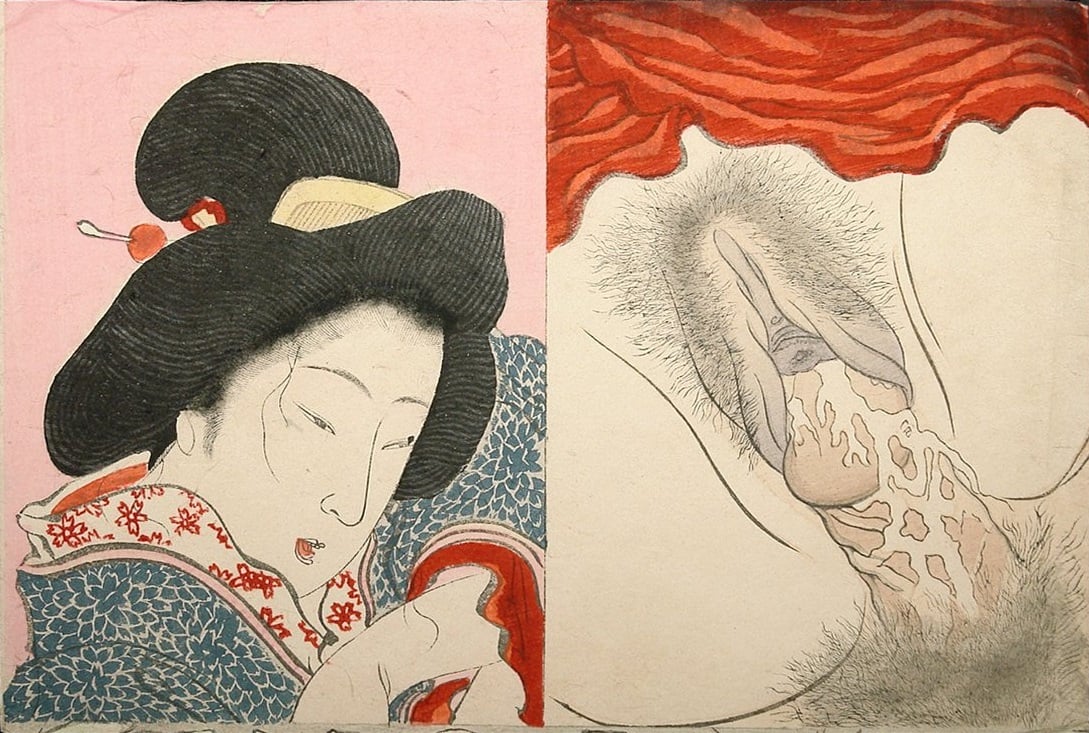 Two-Jointed Shunga Close-ups in the Tomioka Eisen Style
Below you can find a set of remarkable two-jointed prints designed either by Tomioka Eisen (1864-1905) or one of his followers. The artist shows the viewer the intimate activities of a couple up close by only focusing on the facial expressions of the protagonists (mainly the female) in their ecstatic moments and juxtaposes it to a close-up image of the actual intercourse taking place at the same time. The representation in great detail of the erotic interactions and the protagonist's bliss draw us into the action.
Steve McQueen
As an avid movie fan the juxtaposing technique reminds me of the split screen editing in movies such as Grand Prix (1966),  The Thomas Crown Affair (1968) and The Boston Strangler (1968) starring consecutively James Garner, Steve McQueen and Tony Curtis.
The designs are published in the 1890s…
A female lover cleans the penis of her partner with a tissue after his orgasm.
On the left a close-up image of an ecstatic woman (wearing a hairpin with a peony) and on the right a close-up of clitoris stimulation.
On the right an extreme close-up of an aristocratic lady in an ecstatic trance while her male partner strokes her private area. The false painted moth eyebrows on the top of her forehead was the fashion of the day among the Japanese noble class.
A great intercourse close-up scene on the moment of orgasm with on the left the ecstatic reaction of the woman.
The following book print by Keisai Eisen (1790-1848) may have served as inspiration for the above pieces:
Below you can find additional designs from this set attributed to Tomioka Eisen:
Click HERE for more memorable shunga art from the Meiji period…!!!
Click HERE if you want to know the price and more info about the above pieces…!!!