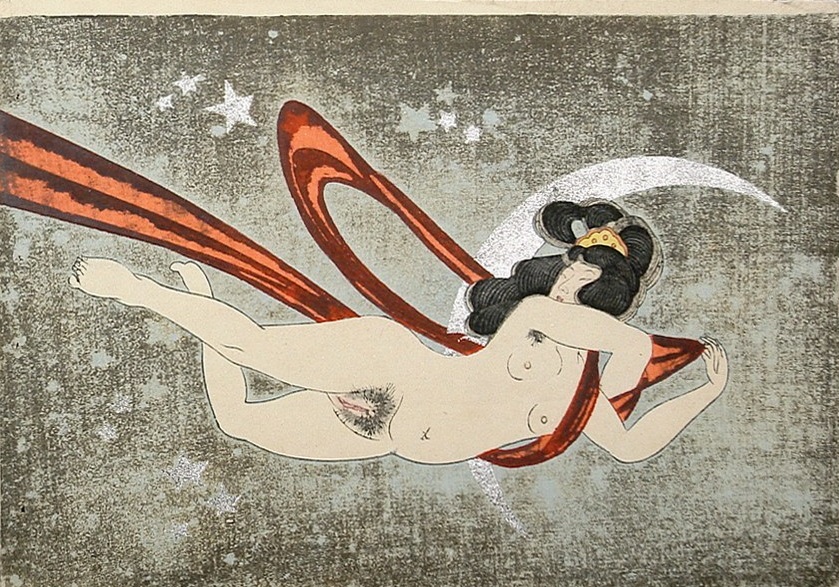 Spectacular Erotic Fantasy Scene of the Deities Orihime and Hikoboshi
The following dazzling erotic image refers to Tanabata (Evening of the seventh aka. Star Festival). This Japanese festival emerged from the Chinese Festival Qixi.
The Deities Orihime and Hikoboshi
It celebrates the reunion of the deities Orihime and Hikoboshi who are symbolized by the stars Vega and Altair. It is believed that the Milky Way separates these loved ones and that they are only admitted to meet only once a year on the 7th day of the 7th lunar month of the lunisolar calendar.
The print was published in the last phase of shunga production (c.1890s) and has a fine impression with outstanding printing details such as the excellent use of silver metallic pigments and burnishing. The condition is near perfect with only four tiny pinholes and marks and flaws.
The size of the print is 14 3/4′ x 5 1/8′ inches and the series is called 'Relic of Honor'. For those shunga collectors with a sharp eye for the aesthetics of the Meiji Period this piece is still available in our gallery for Euro 625,-.
Through the following link you can check out the other designs from the series!