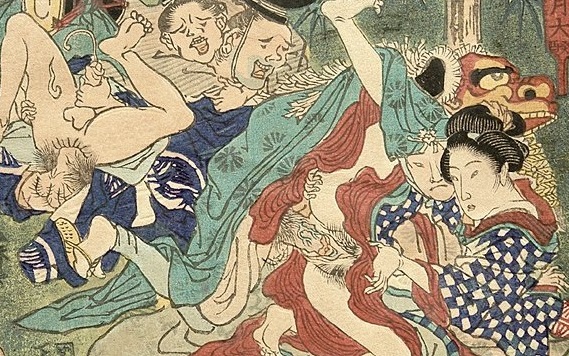 Burlesque Gay Scene With Two Stand-up Comedians By Kyosai
A truly amazing surimono design by the shunga genius Kyõsai. In the foreground a Lion Dancer (a huge festival mask still on his back!) is having sex with a woman while behind them two male manzai performers (stand-up comedians) also engage in sex. Lion Dances and manzai were both performed at the New Year.
Antique Japanese color woodblock Kawanabe Kyõsai (1831-1889).  (Erotic print). Date: 1869 (1st month).  Koban size: 5″ x 3 2/3″ inches. Fine impression, color and condition. Wonderful printed details such as metallic pigments and gauffrage.
The eminent artist Kyõsai bridged the gap between the deaths of Hiroshige, Kuniyoshi and Kunisada and the appearance of Yoshitoshi, Kunichika and Kiyochika. During his youth (from the age of 7) Kyõsai was a student of Kuniyoshi for a short time, but his position as a Meiji print designer is often eclipsed by his activities as a painter. However, he was one of the few artists who designed shunga in the early years of Meiji.
His shunga are so exceptional that his work in the publication of the book 'Japanese Erotic Fantasies' has been dealt with separately by Kyõsai specialist Oikawa Shigeru. 
Reference: p.118 (Above image) in 'Sex and Laughter with Kyosai: Shunga from the Israel Goldman Collection.' by Ishigami Aki and Sadamura Koto