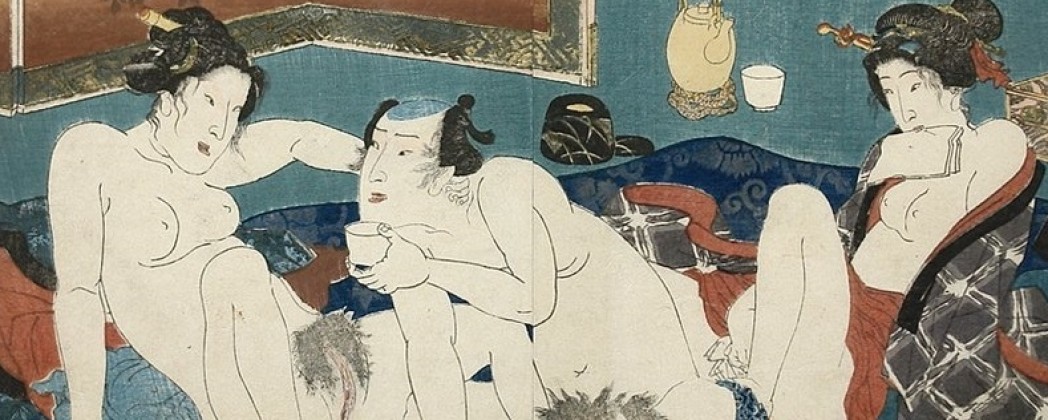 Bedroom Guide to Spring Scenes by Utagawa Kunisada and Keisai Eisen
This work is unusual in that it is a collaborative work in which print artists supplied both the illustrations (Kunisada) and the text (Keisai Eisen). Eisen felt a deep loss over the death of Ryutei Tanehiko (1783-1842), an author for whom he had illustrated many books (Hayasji 1975:225). He feared for the decline of the gokan literary genre and so took it upon himself to become a popular writer. Eisen signed the introduction with his well-known pseudonym 'Insai Hakusui'.
Tale of Genji
Shunshoku neya no shiori is an extremely opulent production, using seven or eight colours in addition to gold and silver pigments. This suggests that the work may have been a special commission from a wealthy patron. A second edition exists with the title Nise Murasaki Genji (An Imposter Murasaki's Genji). This was possibly a play on the Tanehiko's wildly popular Nise Murasaki Inaka Tokushichi and his lusty mistress Otsuya in a passionate love-bout. They have woken up a grumpy cat (An Imposter Genji and a Rustic Genji). The latter was a contemporary take on the classic Tale of Genji that appeared in serialized form from 1829 to 1842.
Miss Lusty
The story of Shunshoku neya no shiori relates the love affair between Tokushichi, heir to a large business, his late father's and his mistress Otsuya (literally, 'Miss Lusty') and the young Otayo. One day Tokushichi visits his uncle, who has a sweet, pretty sixteen-year-old daughter named Otayo the uncle would like Tokushichi to marry. The family convinces him to stay overnight and Tokushichi is left alone with Otayo. Nothing transpires, but infatuated by Tokushichi Otayo later sneaks into his bedchamber. They make love and soon their marriage is arranged.
Ill Pining
The newlyweds are blissfully happy. In the meantime, Tokushichi's former lover, Otsuya is installed in a separate house. There she leads a cloistered life, hardly suitable for such a highly-sexed woman. She falls ill pining for Tokushichi and their earlier bouts of love-making. When he kindly agrees to visit her, she drags him to bed and makes love to him.
Click here for the most extensive article on shunga on the internet!
Click HERE to check out the prices of the above pieces!