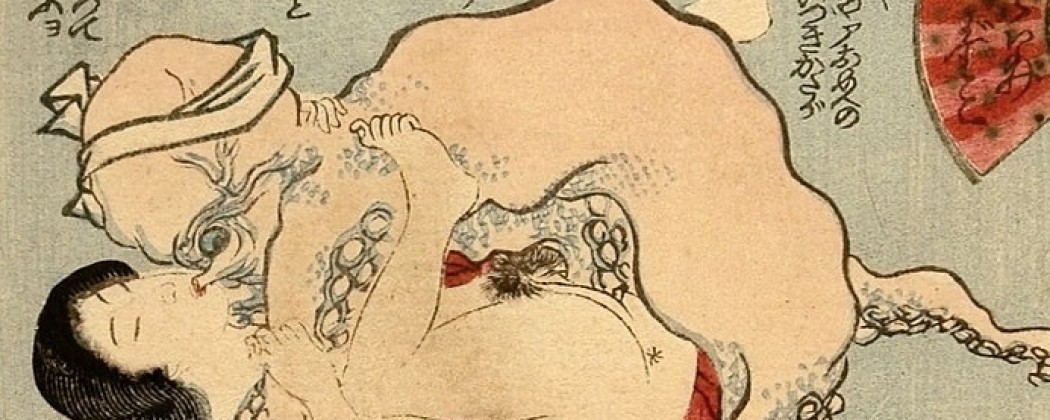 Kunisada II's Amusing Octopus Fantasy
The humour of this image attributed to Utagawa Kunisada II (1823–1880) lies in the fact that the octopus wears a white head scarf of a commoner. Either this depiction is the imagination of the woman or the octopus represents the male lover who sees himself as the tremendous lover that octopuses are purported to be.
Loyal
Kunisada II was a loyal and talented pupil of the Utagawa school. He worked i the style of his mentor Kunisada but never reached his level of success. He was specialized in actor prints but also produced prints in other genres and subjects such as female portraits, shunga and prints featuring the Tale of Genji. Sometimes he joined forces with other ukiyo-e colleagues.
Kunisada's Daughter
Kunisada II's career started in 1844 as Kunimasa III. He was adopted by Kunisada when he married his oldest daughter Osuzu. Around 1850 he changed his name form Kunimasa III to Kunisada II. A diligent worker, Kunisada II produced over forty print series and nearly 200 various titles. Unfortunately there was a reduced demand for his work at the start of the Meiji period.
Toyokuni IV
Later he became the head of the Utagawa school and in honor of the founder changed his name in Toyokuni IV. He stopped as a designer of prints and books around 1874. He died at the age of 58, on July 20, 1880 and was buried at the Banshoin Kounji cemetery, jut like his mentors Toyokuni and Kunisada.
Click HERE for articles on other shunga pieces featuring Octopuses…!!!