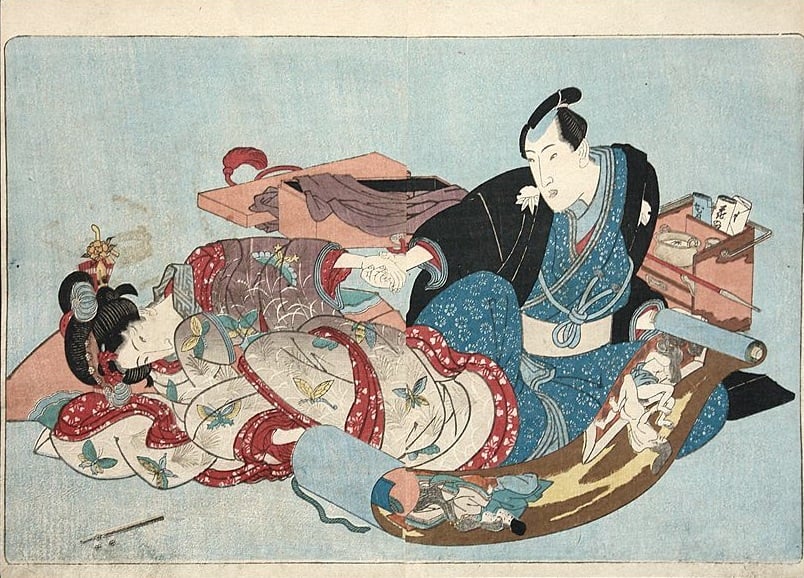 Collector's Story Behind Kunisada Print of Couple Watching Erotic Scroll
Amusing
A while ago we sold the above print from Kunisada Four Seasons series to a German client who told me an amusing background story behind his purchase:
"As a sculptor* I am fascinated by the Japanese Art and especially the shunga because of several reasons. First it's thematically near to my own work (the different qualities of men and women together as a couple). So there's a fascination about which solutions other cultures have found for this theme. In Japanese art it's very directly but also objective. Secondly as a student I could learn a lot of ukiyoe and shunga, for example the clear compositions, the reduction to the necessary minimum and how free the lines and the modeling of a body could be. Last year I went to Japan and visited in Tokyo an ukiyo-e art dealer. I bought a shunga print of Shozan and showed it back in Germany to my girlfriend. Her reaction was the same as the woman in the Kunisada piece, so I also had to buy this one".
The Brushwood Fence
The couple in the scene are watching a later copy of the oldest known Japanese erotic painting that is supposedly dating back to the 12th Century. It is called The Brushwood Fence Scroll (Koshibagaki-zoshi). The Brushwood Fence remained a popular theme in later times and was copied several times. In the book Shunga, the Stages of Desire published by the Honolulu Museum of Art another impression of this Kunisada design is depicted on p.44/45.
Kunisada Four Seasons Series
Nowadays among Kunisada's most admired works, 'Shunka shuto shiki no nagame (Spring, Summer, Autumn and Winter: Prospects for the Four Seasons)' is exquisitely printed and would have been an expensive book to produce.
This indicates that it may have been a commission by a wealthy townsmen. It is generally believed that the first two volumes (spring and summer) were published first, and followed by the last two volumes (autumn and winter) two years later. The final two volumes were titled simply Shiki no nagame.
Clarity
The appeal of this album lies in the clarity of the imagery, which is not cluttered by surrounding blocks of texts. The texts included were written by Enkobo Gessei, a pseudonym for the gesaku writer Utei Enba II, and they constitute a collection of short stories, occasionally augmented by a poem, that are loosely associated with the seasons.
If you also have a nice story about your art collection or want to share your motives for buying a certain piece please let me know and I will publish it in this section (Shunga Collector's Corner).
If interested I can then include a link to your site. If you want to remain anonymous I will just add your story.