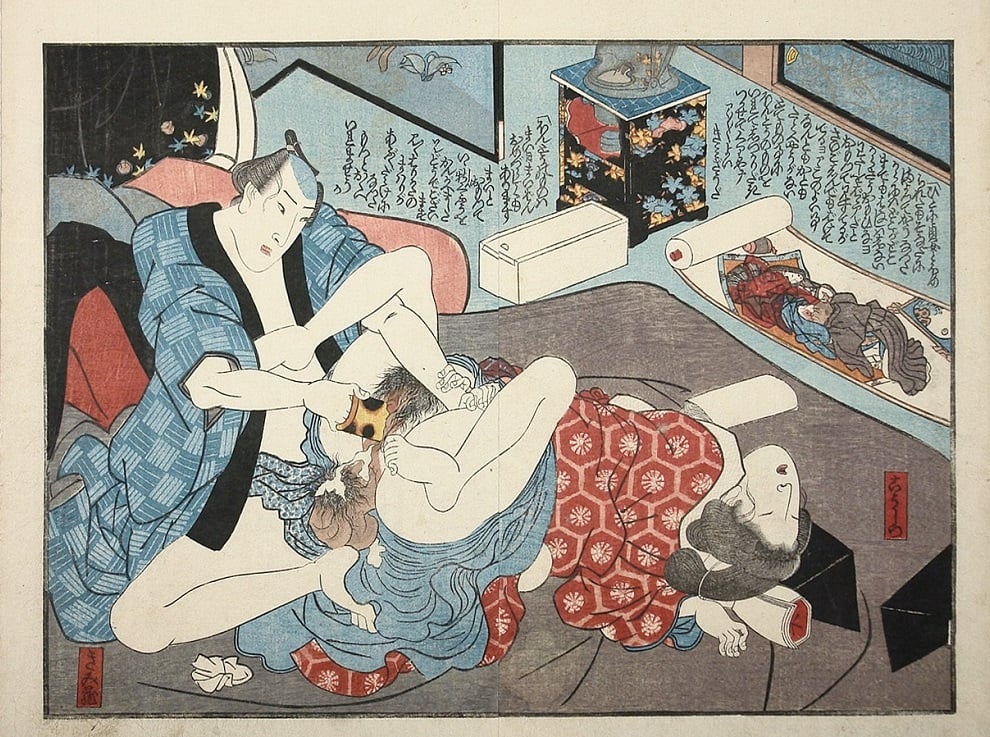 Shunga Prints Depicting Sensual Pleasure Using a Harigata
Shunga prints in books often portray certain themes and subjects that return in the consecutive designs. Today I have brought together some shunga prints from our collection that show couples who entertain themselves with the harigata (dildo). In the designs below the depicted harigata's are all made out of tortoise-shell.
Double Penetration
A couple has retreated to their bedroom and experiment with a newly obtained harigata. The woman is double penetrated. The unrolled scroll painting on the right depicts a design from Kunisada's own Four Seasons-series.
A similar scene like the previous print, also by Kunisada, with the couple in reverse in comparison with the predecessor. Here the couple has a whole collection of sex toys.
Rosina Buckland comments on this design: "…A particularly explicit illustration from Utagawa Kunisada's The Eight-Petal Wisteria of Love (Koi no yatsufuji, 1837) shows the passionate session of a couple on a hot summer's evening (to the left, smoke rises from an incense-burner to deter mosquitoes). An impressive array of sex toys is laid out on a tray beside them. The man lifts the woman's leg to insert a tortoiseshell dildo into her vagina while he penetrates her anally. She flings her head backwards and curls her toes in ecstasy, still grasping a small container of lubricant or aphrodisiac ointment, hastily removed from its paper wrapping."
Various Women
A highly amusing and appealing shunga design with various women experimenting and enjoying themselves with harigata's (dildo's). They can not get enough of it, as suggested by the crumpled tissues that surround them.
Various Poses
A hilarious scene featuring numerous copulating couples in varying complicated poses. Striking is the man in the above left corner who is satisfying three females using two dildos.
Wary Samurai
The following piece by Kuniyoshi offers a special design of a wary samurai who is listening to the activities inside the mansion…ready to draw his sword. A striking detail is the giant harigata he is holding under his arm.
In the following short videos you can find more shunga depicting dildos and other sex toys:
Click HERE for more interesting content on other shunga prints!
Prints 4 & 5 are still available for sale at this time. You can find the prices when you click HERE !
More content on sex toys can be checked out by clicking HERE…!!!