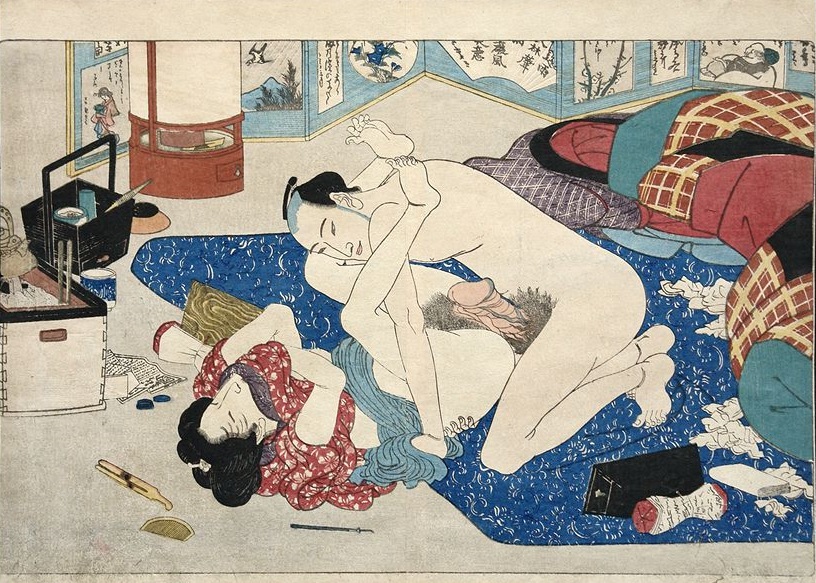 The Insatiable Couple from Kunisada's Four Seasons Masterpiece
Kunisada's output of erotic books was immense, with an estimated amount of forty-two titles. Spring, Summer, Autumn, Winter: Prospects of the Four Seasons (Shunka shuto: Shiki no nagame) is an excellent example of the opulently produced shunga books of the period.
Hidden
The Spring and Summer volumes were issued at New Year 1827 and Autumn and Winter volumes at New year 1829. The illustrations were done by Kunisada and the included short stories and poems related to the seasons were written by 'Enkobo Tsukinari',  a pseudonym of Utei Enba II (1792-1863). It is thought that Kunisada based his images on drawings by his mentor, Utagawa Toyokuni I, which might be the reason a signature is missing, not even a hidden one.
Dispersed Hairpins
A canister burns on a stove on the left, although the couple have thrown to the side the bed linen during a spring evening. The crumpled tissues, the fallen taka-makura's (geisha pillows) and dispersed hairpins signify the energy and span of their love-making.
Bites Down
They just started a new session, the woman has lifted her legs on to her spouse's shoulders and bites down on her robe. The screen in the background is covered with a collection of prints, a scroll and poem-slips.
You can find the price of the above piece by clicking HERE…!!!
Click HERE for more on the Four Seasons-series…!!!