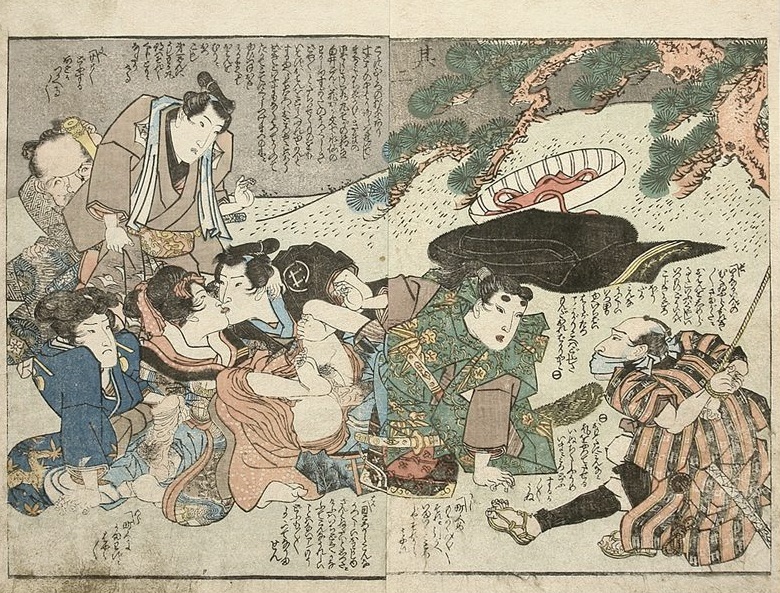 Does This Shunga Design By Kunisada Really Portray a Rape Scene?
At first this striking shunga scene by Utagawa Kunisada (1786-1865) seems to involve a rape but the partial translation of the dialogue below will reveal something else!
The partial translation reads:
Tied man: "Good heavens! Fuck you! My babe's voice is homy!"
Babe: "I'm lucky! Amazing huge cock!"
Kunisada's Tales of Pussy
This "orgy" scene features five men making love to a woman while her husband has been tied down to a tree. The man who is penetrating the woman while looking at her husband is from aristocratic heritage as his clothing and shaved eyebrows indicate.
This diptych is from the Bunsei era, 9th year, 1826. The size is 10 3/4" x 8 2/5" inches and is from the series: Kaidan Yoru no Tono (Picture Book: Tales of Pussy in the Palace at Night aka.Vaginal Tales of the Nocturnal Palace). This parody is written by Utei Enba II (1792-1862).
The impression is fine and has very good colors and is in a very good condition. Only some minor wear and soiling. The printer's use of metallic printing is magnificent.
According to the eminent shunga expert Hayashi Yoshikazu the series not only shows the pinnacle of Kunisada's brilliant artistry, but stands as a masterpiece among shunga of the Edo era.
This fine piece of art is available in our gallery for only Euro 575,- at this time!